Do You Know About Leaky Gut And
The Threat It Means For Your Immune System?
We can easily identify where our nervous, digestive or cardiovascular systems are in our body but… What about our immune system? 
Now you know 70% of it lies in the gut, making it the immune system's powerhouse. And if you think about it, it's no wonder why: Our food nourishes our body, but it's also our main source of harmful bacteria and toxins.  Recent research shows there's a direct link between our western diet and a generalized state of inflammation, which affects our immune response.
Our gut is like a sift that separates nutrients from waste, filtering the nutrients to the bloodstream and eliminating the rest. The standard western diet: high in carbs and fats and low in fiber, combined with other elements like alcohol and stress, can harm our gut. This can cause your gut to rip: harboring pathogenic bacteria and leaking toxins to the bloodstream. This condition is known as:
Which we're all affected by in different levels .
No one wants toxins from their feces to leak into their bloodstream, so you might be wondering... 
How to eliminate and prevent leaky gut? 
AND ITS 3-STEP IMMUNE BOOSTING SPECTRE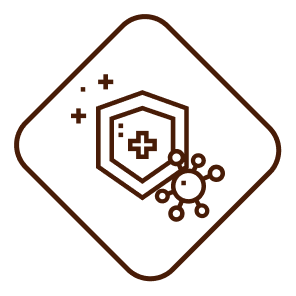 CLEANSE & ACTIVATE IMMUNE RESPONSE
With a combination of the best probiotic bacteria strains that help to eliminate the bad crawlies already living in our gut. Containing Lactobacillus rhamnosus, Lactobacillus gasseri and Lactobacillus helveticus, clinically proven to fight pathogenic bacteria and enhance immune response.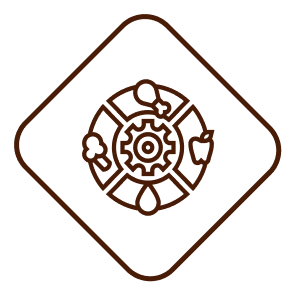 CLEANSE & ACTIVATE IMMUNE RESPONSE
Leaky Gut Guardian contains IgY MAX, the only patented egg-based immunoglobulin. Immunoglobulins are naturally occurring cells that our body generates to fight bad bacteria and the toxins they produce. By eliminating these threats, our body can regenerate the gut tissue and reduce its permeability. IgY MAX has proven to reduce gut permeability up to 95% in human research Having better gut health allows better nutrient absorption.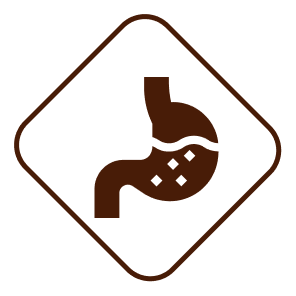 NOURISH & MAINTAIN GASTRIC HEALTH
Prebiotics are nutrients that our body can't absorb, but good bacteria in your gut can. This helps to keep the good bacteria we've fed our body stay nourished and healthy. Leaky Gut Guardian contains Inulin, D-ribose and VitaFiber. These prebiotics not only feed our healthy microbiome, but have also proven to further strengthen the immune system, Increase our cellular energy and improve overall gastric health.

2 Incredible Flavors To Fit Your Needs
With all those great ingredients you might think Leaky Gut Guardian might not taste that great, right?
Not at all.
In your morning smoothie, protein shake, on top of your fruit bowl, mixed in with juice, iced coffee or tea, combined with a healthy sweet snack… 
This product is as beneficial for your gut health as it is versatile to include in your daily routine. The best part?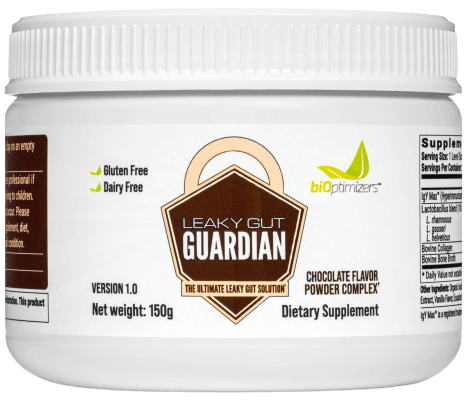 With a rich and delicious chocolate flavor, you won't hesitate to add this Immune system booster to your diet .

This chocolate-flavored Leaky Gut Guardian presentation contains collagen, which has proven to reduce gut inflammation and promote its regeneration.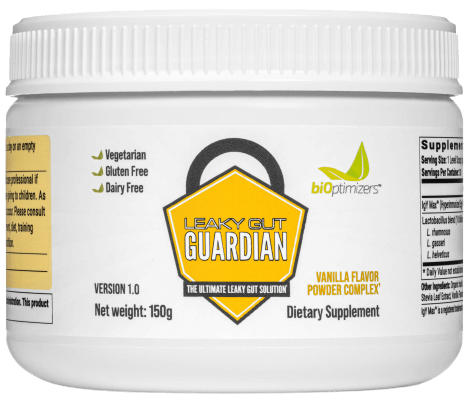 Just as delicious and suitable for a vegetarian diet.

As a company that encourages diet diversity, we couldn't forget about our vegetarian folks. The vanilla-flavored Leaky Gut Guardian presentation contains the same benefits mentioned above but has no animal-derived collagen.
Leaky Gut Guardian's Results Are Not Only Backed By Science, But
Experienced By Its Users:

Kathy Thera, FL
"More Energy and Able to Deal with Stress Better!"
I have been using this formula for almost 10 months now. I sprinkle the powder on my salads when I make one, I also put some in smoothies either from scratch in my vita-mix or Silks protein and juice drink. I also mix some in small fruit and yogurt cups. I have been sleeping better, have more energy and able to deal with stress better, since using it. I also give it to our pets. The vet wanted to know why our cocker spaniel dog Tonka doesn't get ear infections because its unusual for long eared dogs not to get ear infections. I told her that it's because of this formula.

Charlene Kelley, KY
"What a Wonderful Thing an Immune System in Balance Is!"
As a Registered Nurse, I can assure you this nutrient is the safest, across the board for all ages, best supplement I have ever found!!!
Yes, and I do research everything I come across!!!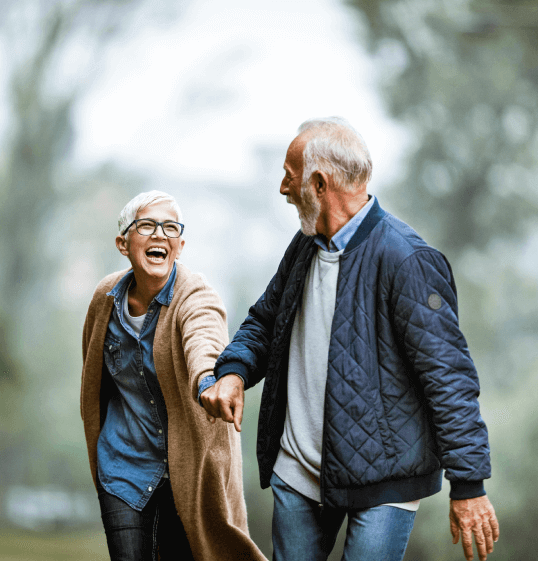 Stephen
"Day-to-Day Feeling of Well-Being... Especially in My Gut!"
I think what I like most about this formula is the general, day to day feeling of well-being, especially in my gut. I never really had digestion issues (or any health issues for that matter) but it seems that since taking this formula, everything in there seems to be much more efficient. I have regular movements, I rarely feel bloated of gassy (I don't drink much and have never smoked, but I do like to eat!),
and I rarely get sick. If I feel the flu coming on, I just stop and rest and take a little extra this formula.

Now more than ever, our immune system should be our top priority
Inflammation occurs when tissues are injured by bacteria, tissue damage, toxins, etc. The damaged cells release chemicals including histamine, bradykinin and prostaglandins. This is a natural process in the body that helps isolate and combat foreign threats, however, having our body in this constant state of alert causes  serious problems.
When suffering from leaky gut, our GI has fissures that can host bad bacteria, toxins, feces, and undigested food (which produce even more toxins).
This leads to being in a constant state of inflammation which can trigger a generalized imbalance in our immune system.
And the worst part is that this immune impairment prevents our body from defending us from external threats, including respiratory diseases.
Plus, no one really wants to harbor pathogenic bacteria and food waste in gut wounds,and having them leak into our bloodstream.
Still Not Sure If Leaky Gut Guardian Is Your Best Pick
For Immunity Support?
HERE'S EVERYTHING YOU NEED TO KNOW BEFORE TRYING OUT LEAKY GUT GUARDIAN FOR YOURSELF.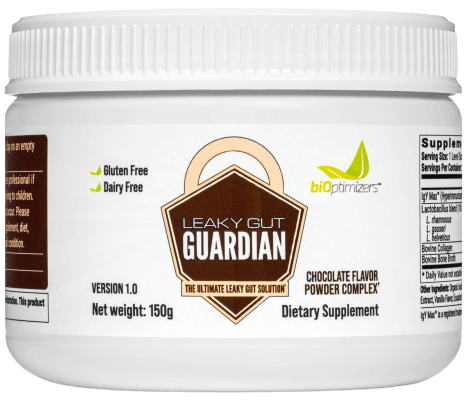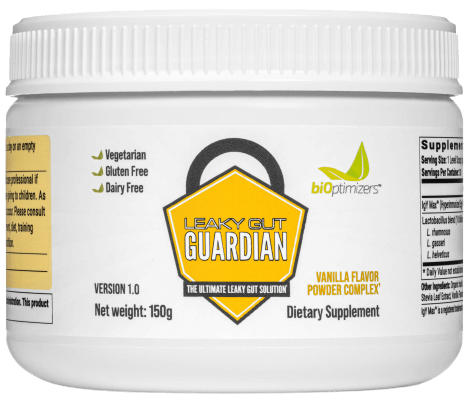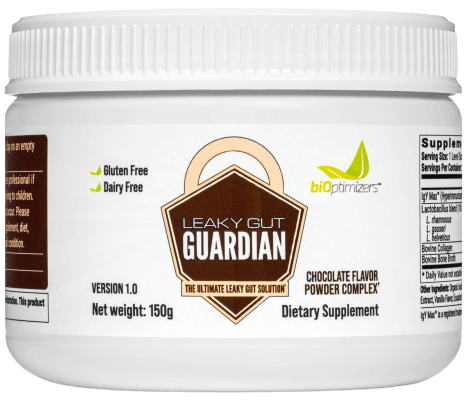 The gut lining, which comprises only one cell layer and the mucus that covers it, is naturally permeable to water, fat-soluble molecules, and nutrients. Leaky Gut Syndrome or "intestinal permeability" is when the gut lining allows more things to pass through than it normally should. This allows the gut content, such as bacterial cell wall components and food particles, to be exposed to the immune system.
In individuals with optimal health, the well-balanced immune system should be able to neutralize the immune responses from leaky gut so it doesn't cause inflammation. However, in people with unhealthy immune balance, a leaky gut can often cause digestive problems, brain fog, or autoimmune disease.
Leaky gut manifests differently for everyone, depending on the weakest links in their health. Note that you do not need to have any digestive symptoms to have a leaky gut. Leaky gut can manifest as or worsen the following conditions:
Autoimmune
Joint pain
Food allergies, intolerances, and sensitivities
High cholesterol
Brain fog and cognitive decline
Inability to lose weight or keep it off
Low Mood and mental health problems
Skin problems
Digestive diseases and symptoms
Fatigue
Allergic diseases
Many things in the modern diet and lifestyle can increase intestinal permeability, such as:
Unhealthy diets and processed foods that are high in trans, saturated fats , sugar, and food texturizers
Gluten
Nutrient deficiencies, especially vitamins A and D
Alcohol
Gut infections, such as parasites and yeasts
Inflammation from food
Stress and traumatic events
Hard workouts
Concussions and brain injuries
Poor sleep and circadian rhythm
Dysbiosis or imbalances of the gut microbes
Medications, such as ibuprofens, antibiotics, birth control, and proton-pump inhibitors
Genetic susceptibilities may contribute to the tendency to develop leaky gut syndrome
The spectrum of the leaky gut syndrome and manifestations of symptoms vary widely. If you live a modern lifestyle, having a leaky gut from time to time is inevitable. A well-balanced immune system will ignore the leaky gut content and allow the gut to reseal itself, leading to no symptoms.
If you are perfectly healthy and not aware of any leaky gut symptoms, living a healthy lifestyle, eating a healthy diet, and optimizing your digestion are important to maximize your resilience to leaky gut. Also, use Leaky Gut Guardian® as nutritional insurance to maintain a healthy gut barrier, and balance your gut biome and immune system.
If you suffer from symptoms of leaky gut work with a qualified practitioner to address the root cause. Any leaky gut repair program typically involves:
An anti-inflammatory diet that removes inflammatory foods and provides the necessary nutrients for gut healing.
A gut pathogen-killing protocol that involves testing, killing, and retesting for the pathogens.
Stress management and sleep optimization.
A digestion optimization program, which involves improving your eating habits and digestive enzymes.
A toxin reduction protocol, which may involve moving or remediating a toxic home, filtering your water, eating organic foods, and switching to non-toxic products.
Addressing any other factors that may contribute to leaky gut, such as concussions or trauma.
Unhealthy diets and lifestyle
Stress
Imbalanced gut bacteria
Irritable bowel syndrome (IBS)
Inflammatory bowel diseases
Celiac disease
Diabetes
Obesity
Food allergies, sensitivities, and intolerances
Autoimmune diseases
Infertility
Hormone imbalances and hormonal conditions, such as PCOS and endometriosis
Brain fog and cognitive decline
Dementia
Skin problems
Mental health problems
ADHD
PTSD
Concussions
Chronic pain
The typically turns over every 5 - 7 days. However, the actual time you need to completely heal an inflamed gut depends on the extent of the damage, age, and other health factors. In very healthy people, their gut lining can recover from a gluten-containing meal within a few hours. For those experiencing inflammatory symptoms, they need to both heal the gut lining and calm the whole body's immune system, which typically takes a few months. For example, the gut lining of celiac disease patients go through autoimmune attacks, so that most of the structures are destroyed. Once they stop eating gluten, it can take years for the gut lining to completely recover.
Most people who try to heal their leaky gut will use some antimicrobials, probiotics, digestive enzymes, and sometimes a chemical biofilm breaker. Some protocols will also include glutamine or bone broth to "feed" the gut cells. The problems with this approach include:
It doesn't take into account how your gut bacteria interact with your gut lining. Antimicrobials and biofilm breaker are not specific to the bad bacteria or yeast, thus killing both good and bad bacteria. This can create more dysbiosis.
The killing spree and biofilm breaking can result in unpleasant dieoff reactions from these microbes and biofilm releasing inflammatory substances. Sometimes, the antimicrobials can even turn the microbes more aggressive.
The probiotics are not specifically designed to stay or provide the fuel to survive.
Buying 5 supplements for a few months get expensive.
Leaky Gut Guardian is designed and tested to only attack the bad bacteria, while leaving the good bacteria intact. Studies have also shown that IgY can disrupt the communication (quorum sensing) and biofilm formation between bad bacteria. Also, after the disruptions, the IgY binds to these bacteria and helps the white blood cells to destroy them, which minimizes dieoff clinical study has also shown that IgYmax can increase the beneficial bacteria, and reduce intestinal permeability and inflammation markers.
Leaky Gut Guardian combines IgY max with friendly Lactobacilli that are better at adhering to the gut lining than most probiotic strains. We also provide prebiotics that improve their survival. Also, the prebiotic fermentation can produce butyrate and other short-chain fatty acids, which feed and improve the gut lining. The bone broth and collagen powders also provide the nutrients to support the gut lining.
Overall, Leaky Gut Guardian is the only gut healing supplement that works to weed out the bad bacteria and reseed the good ones, while supporting the gut lining. It is the most powerful leaky gut healing supplement in combination with a healthy diet and lifestyle.
Raw apple cider vinegar is a powerful living fermented food that may support the gut lining. It contains enzymes, probiotics, and many different bacterial acids, especially acetate. The apple cider vinegar can stimulate stomach acidity, improve digestion, and provide fuels for the gut cells. While apple cider vinegar may be helpful to include in your diet, it is not a treatment for leaky gut syndrome on its own.
Egg proteins are highly immune-stimulating, which is why they are often used as part of vaccines. Therefore, many people who have leaky guts become sensitive or allergic to eggs. Most anti-inflammatory diets for healing leaky gut recommend excluding eggs.
Coffee is stressful for your body and contains many immune-stimulating components. It is also a common food allergy. You should try eliminating it and bringing it back to see if it causes any inflammation. For non-sensitive people who genetically have faster caffeine detoxification enzymes, coffee is a great source of polyphenols that are good for their gut bacteria.
Smelling, tasting, or thinking of sour foods like lemons can often get your nervous system to anticipate food. It makes you salivate and release stomach acid. So, lemon water on an empty stomach might be a good way to wake up your digestive system before meals. It is also a good source of vitamin C, which is important for healing. However, there is no actual evidence that lemon water helps heal the gut.
Ready To Boost Your Immune System Through Gut Health?
The Benefits of Leaky Gut Guardian Supplement Backed by Science
BOOST YOUR IMMUNE SYSTEM WITH THE POWER OF PROBIOTICS, PREBIOTICS AND IMMUNOGLOBULINS