Do you know about Leaky Gut and
the Threat it means for your Immune System?
We can easily identify where our nervous, digestive or cardiovascular systems are in our body but… What about our immune system? 
Now you know 70% of it lies in the gut, making it the immune system's powerhouse. And if you think about it, it's no wonder why: Our food nourishes our body, but it's also our main source of harmful bacteria and toxins.  Recent research shows there's a direct link between our western diet and a generalized state of inflammation, which affects our immune response2. 
Our gut is like a sift that separates nutrients from waste, filtering the nutrients to the bloodstream and eliminating the rest. The standard western diet: high in carbs and fats and low in fiber, combined with other elements like alcohol and stress, can harm our gut. This can cause your gut to rip: harboring pathogenic bacteria and leaking toxins to the bloodstream. This condition is known as:
Which we're all affected by in different levels.3 
No one wants toxins from their feces to leak into their bloodstream, so you might be wondering... 
How to eliminate and prevent leaky gut? 
AND ITS 3-STEP IMMUNE BOOSTING SPECTRE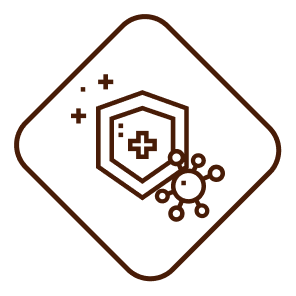 CLEANSE & ACTIVATE IMMUNE RESPONSE
With a combination of the best probiotic bacteria strains that help to eliminate the bad crawlies already living in our gut. Containing Lactobacillus rhamnosus, Lactobacillus gasseri and Lactobacillus helveticus, clinically proven to fight pathogenic bacteria and enhance immune response.4, 5, 6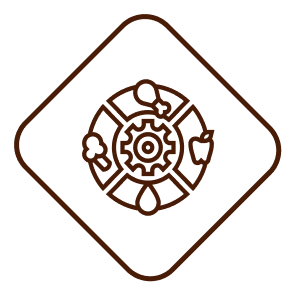 CLEANSE & ACTIVATE IMMUNE RESPONSE
Leaky Gut Guardian contains IgY MAX, the only patented egg-based immunoglobulin. Immunoglobulins are naturally occurring cells that our body generates to fight bad bacteria and the toxins they produce. By eliminating these threats, our body can regenerate the gut tissue and reduce its permeability. IgY MAX has proven to reduce gut permeability up to 95% in human research7. Having better gut health allows better nutrient absorption.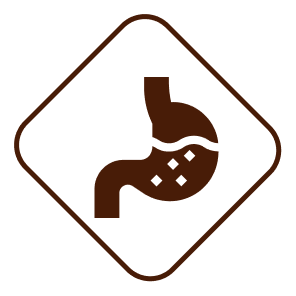 NOURISH & MAINTAIN GASTRIC HEALTH
Prebiotics are nutrients that our body can't absorb, but good bacteria in your gut can. This helps to keep the good bacteria we've fed our body stay nourished and healthy. Leaky Gut Guardian contains Inulin, D-ribose and VitaFiber. These prebiotics not only feed our healthy microbiome, but have also proven to further strengthen the immune system8, Increase our cellular energy9 and improve overall gastric health10.

2 Incredible Flavors To Fit Your Needs
With all those great ingredients you might think Leaky Gut Guardian might not taste that great, right?
Not at all.
In your morning smoothie, protein shake, on top of your fruit bowl, mixed in with juice, iced coffee or tea, combined with a healthy sweet snack… 
This product is as beneficial for your gut health as it is versatile to include in your daily routine. The best part?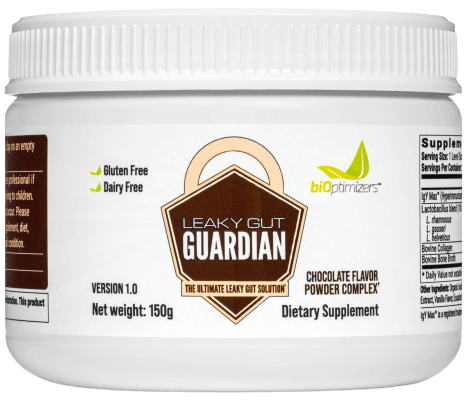 With a rich and delicious chocolate flavor, you won't hesitate to add this Immune system booster to your diet .

This chocolate-flavored Leaky Gut Guardian presentation contains collagen, which has proven to reduce gut inflammation11 and promote its regeneration12.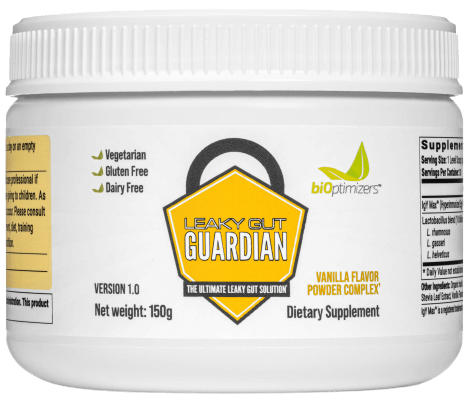 Just as delicious and suitable for a vegetarian diet.

As a company that encourages diet diversity, we couldn't forget about our vegetarian folks. The vanilla-flavored Leaky Gut Guardian presentation contains the same benefits mentioned above but has no animal-derived collagen.
Leaky Gut Guardian's results are not only backed by science,
but experienced by its users:
Leaky Gut Guardian's results are not only backed by science,
but experienced by its users:
Leaky Gut Guardian's results are not only backed by science, but experienced by its users:

Kathy Thera, FL
"More Energy and Able to Deal with Stress Better!"
I have been using this formula for almost 10 months now. I sprinkle the powder on my salads when I make one, I also put some in smoothies either from scratch in my vita-mix or Silks protein and juice drink. I also mix some in small fruit and yogurt cups. I have been sleeping better, have more energy and able to deal with stress better, since using it. I also give it to our pets. The vet wanted to know why our cocker spaniel dog Tonka doesn't get ear infections because its unusual for long eared dogs not to get ear infections. I told her that it's because of this formula.

Charlene Kelley, KY
"What a Wonderful Thing an Immune System in Balance Is!"
As a Registered Nurse, I can assure you this nutrient is the safest, across the board for all ages, best supplement I have ever found!!!
Yes, and I do research everything I come across!!!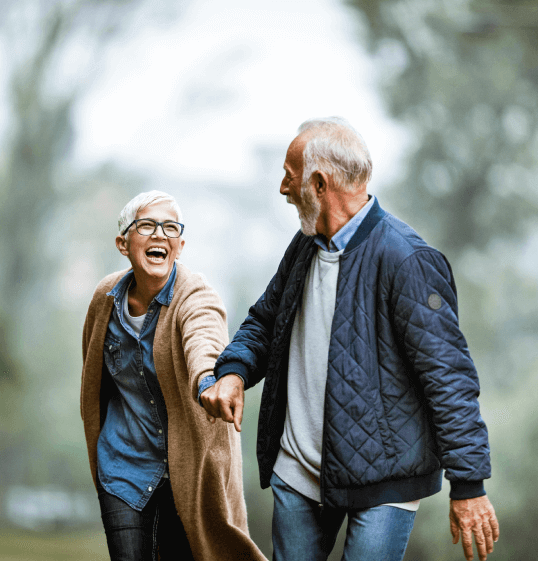 Stephen
"Day-to-Day Feeling of Well-Being... Especially in My Gut!"
I think what I like most about this formula is the general, day to day feeling of well-being, especially in my gut. I never really had digestion issues (or any health issues for that matter) but it seems that since taking this formula, everything in there seems to be much more efficient. I have regular movements, I rarely feel bloated of gassy (I don't drink much and have never smoked, but I do like to eat!),
and I rarely get sick. If I feel the flu coming on, I just stop and rest and take a little extra this formula.

Now more than ever, our immune system should be our top priority
Inflammation occurs when tissues are injured by bacteria, tissue damage, toxins, etc. The damaged cells release chemicals including histamine, bradykinin and prostaglandins. This is a natural process in the body that helps isolate and combat foreign threats, however, having our body in this constant state of alert causes  serious problems.
When suffering from leaky gut, our GI has fissures that can host bad bacteria, toxins, feces, and undigested food (which produce even more toxins).
This leads to being in a constant state of inflammation which can trigger a generalized imbalance in our immune system.
And the worst part is that this immune impairment prevents our body from defending us from external threats, including respiratory diseases15. 
Plus, no one really wants to harbor pathogenic bacteria and food waste in gut wounds,and having them leak into our bloodstream.
Still Not Sure If Leaky Gut Guardian Is Your Best Pick
For Immunity Support?
Still Not Sure If Leaky Gut Guardian Is Your Best Pick For Immunity Support?
HERE'S EVERYTHING YOU NEED TO KNOW BEFORE TRYING OUT LEAKY GUT GUARDIAN FOR YOURSELF.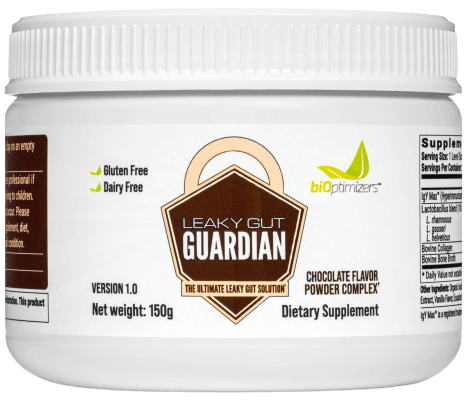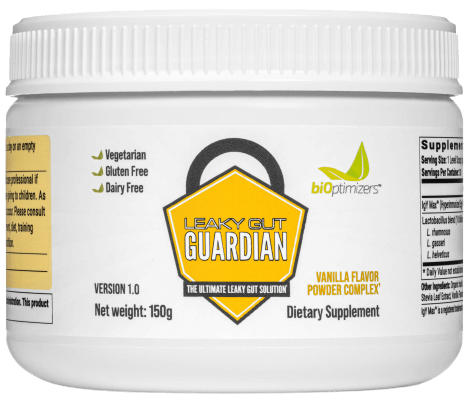 FREQUENTLY ASKED QUESTIONS:
Leaky Gut Guardian is a synergistic blend designed to improve your gut microbiome and heal your gut lining.
IgYmax, a key component of LGG has been clinically shown to reduce the leaky gut marker Zonulin by 95%. Also, it improves the gut lining's ability to break down histamine, which indicates reduced inflammation.
Many bad bacteria in your gut won't leave because they camp out in their "biofilms," which protect themselves from antimicrobials and your immune cells. IgYmax can disrupt these bad biofilms, while the good bacteria strains in LGG are good biofilm builders. Together, both the IgYmax and good bacteria strains help reshape your gut biome and create more good biofilms.
The prebiotics, collagen, and gelatin (for chocolate flavor) in LGG provide food for the good gut bacteria and nutrients that nourish the gut lining. The prebiotics improve the survival of good bacteria in your gut. Also, when the good bacteria ferment these nutrients, they provide beneficial and gut-healing substances such as butyrate.
Health benefits of Leaky Gut Guardian may include:
Better balanced immune response

Less gut inflammation

Better nutrient absorption

Reduced bloating and gas

Better digestion

Some people may also find better energy levels, cognitive function, and results from their diet and workout programs. Because leaky gut manifests differently for everyone, individual responses vary.
Leaky Gut Guardian® can be taken on an empty stomach upon waking to enjoy optimal benefits.
The recommended dosage for Leaky Gut Guardian® is one level scoop for one 8 oz. cup. Take once a day on an empty stomach.
Leaky Gut Guardian® is not recommended for children.
Store Leaky Gut Guardian® in a cool and dry location.
The shelf life for Gut Guardian® is 2 years from the manufactured date, which can be found on the bottle.
Pregnant or breastfeeding mother should consult a healthcare professional before beginning any new supplement, diet, or training program, or if you are undergoing treatment for a medical condition.
Ready To Boost Your Immune System Through Gut Health?
The Benefits of Leaky Gut Guardian Supplement Backed by Science
BOOST YOUR IMMUNE SYSTEM WITH THE POWER OF PROBIOTICS, PREBIOTICS AND IMMUNOGLOBULINS