Cellerciser Ultimate 10 Minute Workout
Published On January 4, 2016
As you commit to putting in more effort to achieve your best health yet, you may wonder what the best exercise you should be doing is.  Which exercise will deliver you the best results for your time investment? Which exercise will help slow the aging process, increase your fitness, and improve your overall strength and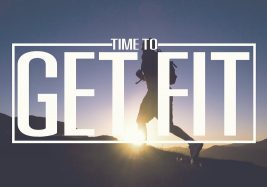 Which exercise will be fun?
As you've likely discovered before, it's one thing to know what the best exercise to be doing is and it's quite another to actually do that exercise.
If the activity in question is just not something you enjoy, the chances you continually keep performing it will be slim to none.
So let's discuss here today what the best form of exercise is.  Before I reveal my top pick for improved health, let's first introduce you to exercise and the forms to choose from.
Why Exercise?
If you've been following along with my previous articles, you by now should know that there are three fundamental things that I consider imperative to health. These include:
Without these three, you would fail to exist. They are a must for good health.
We have already covered air and water, so today, we're going to talk about exercise.  Why do you need it?
Basically, every cell in the body requires movement or contraction for it to function properly.  It's through this contraction that your cells can bring oxygen into the tissues while expelling the toxins and waste products that have built up in the cell.
If these toxins are left to build up, you'll start to get cells that stick together, which can then lead to a lack of inflexibility, which is also associated with the aging process.
Essentially, without contraction, aging occurs rapidly.
So all your cells are begging for contraction – otherwise referred to as exercise.
Which now brings us to the next question, which exercise is best?
There are a few different types of exercise that you can consider.
Aerobic
The first category or class of exercise is aerobic exercise. This literally means 'with oxygen.
When you perform aerobic exercise, you are exercising in a manner that allows the body to be utilizing oxygen as you move.
Think walking.
Think running.
Think cleaning your house.
All of these can be classified as aerobic exercise.  The general definition of this form of exercise is any movement that gets your heart rate up and keeps it there and is done at a moderate pace that you can carry on doing for longer than a couple of minutes.
Take your pick of exercises that do this – they'll all provide aerobic benefits.
Now, you do have those athletes who tend to take aerobic exercise to the extreme. Think of a marathon runner here.  They run for many miles, one after another, without resting.
For instance, one guy by the name of Stu Mittleman used to run for hundreds of miles day after day. This ultra marathon man represented the epitome of aerobic endurance training.
Obviously, the vast majority of the population has no desire – or time – to be running hundreds of miles each week, but you can make this whatever you want it to be.
Walk a few blocks each morning or go for an hour-long bike ride in the evening.  Simply focusing on getting moving and elevating your heart rate is a giant step in the right direction for many people and will provide numerous benefits.
This includes cellular contraction.
If you're really struggling with aerobic exercise, I'd highly recommend getting a pedometer that you can wear around with you on a day-to-day basis or checking out the My Fitness Pal app.
There's all kinds of research out there that illustrates that a sedentary lifestyle contributes to a whole host of different health conditions.
For example, a study published in the Medicine and Science of Sports And Exercise noted that a sedentary lifestyle coupled with poor cardiorespiratory fitness was directly associated with the development of metabolic syndrome, with sedentary subjects showing a 60% high incidence rate than those who weren't.
So what can you do to combat that? Pay attention to your step count. Grab that pedometer and try and hit 10,000 or even 20,000 steps per day.
Most people take as few as 5000 per day on an everyday basis. We live in a very sedentary society and if most people simply doubled their step count, this would dramatically improve their health and well-being.
If you have no idea how many steps you are currently taking, however, you have no place to begin. By wearing the pedometer, you can simply look down, see your step count and if it needs to increase, go take a brief walk.
It can be that simple.
Anaerobic Exercise
Then you have anaerobic exercise. This is the second class of exercise and describes exercise that is done without oxygen.
Essentially, you are working so hard during this form of exercise that your body is unable to keep up with the oxygen demands being placed on it and you become anaerobic (without oxygen) in nature.
Because of this fact, you cannot carry on with this exercise all that long as you'll get winded.
Imagine this.
You're in the gym and put a 20-pound barbell across your back.  Now I instruct you to perform walking lunges until you can go no more.
So you start and take about 15 steps. You feel your breath starting to get heavy. You take another 10. Now you can barely get enough oxygen in.  You take a few more steps, and finally, the burning in your thighs and the beating of your heart force you to stop.
That is anaerobic exercise. You simply were not able to keep up with your body's need for oxygen during this time, and as such, extreme fatigue came over your cells.
Or, you might think of a sprinter. This is another example of anaerobic exercise.   A sprinter is going to run at his or her full capacity for 20-60 seconds (however long the sprint happens to be).
They're working so hard that by the time that sprint is over, they couldn't go any longer even if they tried.  They need to stop to rest (and breathe!).
Weight lifting, sprinting, and CrossFit training – are all excellent examples of anaerobic exercise.
There are many great benefits to this form of exercise, including a higher calorie burn during the exercise (since it's being performed at a higher intensity), increased calorie burn after the exercise (as your body recovers from it), as well as improved heart and lung function, improved strength and power, as well as lower stress levels.
Those are just naming a few.
Anaerobic exercise is extremely helpful if you want to boost your fitness level. I'd recommend that everyone gets on a weightlifting program done three days per week at minimum.
You can of course do more if you want to take it to the next level, however for the average person looking to get fit and prevent aging, this is great.
But this isn't the exercise I'm here to talk to you about today…
Flexibility
The next type of training class that should be mentioned is flexibility training.  When is say this, what comes to mind?
Stretching?
If so, you're on the mark.  Stretching – being able to move through a wide range of motion is also critical for improving health and well-being.
Keeping up your flexibility essentially ensures that you can perform all the activities you want to do.
If you start becoming inflexible (as many people do with age), pretty soon, you'll hardly be able to reach down and touch your toes.
Then soon after that, you may not be able to stretch your arms fully above your head.
In not too long, you may not be able to take a lunge forward.
Get to this stage, and you'll start to be severely limited in the activities and exercises you can perform in your workout program.
The unfortunate thing about flexibility is that if you don't use it, you lose it – and quickly.
Stop stretching for just a month, and you'll soon become far less flexible than you once were.  It's something you should be doing daily.
Now, if you don't want to spend 10-15 minutes a day performing basic stretches because you find that boring, not to worry; you don't have to.
Try yoga.
Yoga is a great exercise as it'll work on your flexibility while still building strength and even cardiovascular fitness at the same time.  With this, you'll kill three birds with one stone, so to speak.
Of course, you won't become the strongest guy in the gym doing yoga so if your primary goal is to gain strength or develop a bodybuilder-like body, yoga may not get you there, but if you simply want functional strength, it's an excellent alternative.
So there you have the three main forms of exercise that should be included in your program.
I know what you're likely thinking, though – how will you ever find the time?!?
Right now, you likely struggle to just get in some aerobic training, never mind anaerobic or flexibility work.
You have kids, a demanding job, a social life (or hopes of one!), and a number of other obligations that keep you from the gym.
Where will you find the time?
The Ultimate 10-Minute Workout
The great news is that with one specific piece of equipment, you only need 10 minutes a day to start reaping all the benefits of these exercises combined.
This piece of equipment?
It's called the Cellerciser.
This piece of equipment, which is basically like a mini trampoline is going to work your body on so many different levels.
The Cellercises is the ultimate 10-minute workout.
Here's why
It helps to boost your aerobic capacity, strengthening your heart.
It'll help to improve your flexibility, increasing your range of motion in day-to-day activities.
It'll help build strength, especially in all the muscles in your lower body.
And it'll also help to increase the number of mitochondria inside your cell, which is referred to as mitochondria density. Think of it like turning your four-cylinder car into a V12 Ferrari.
Created by a guy named David Hall, the Cellerciser is something I'd recommend everyone pick up and keep in their home.
Now, why not just go out and buy a mini trampoline at your local big-box super shopping center?
Because of quality.  You want a machine that does not bottom out, or that has cheap springs.  Pick up one of those, and you won't be getting the workout that you're after, and chances are, it'll break after just a few months of use.
What you want is one that comes with a tapered spring, not a barreled string.  Most of those you find on the market contain the barreled string, which just won't hold up over time. The Cellerciser provides the tapered spring you want.
Now, you can also find different-sized springs for different densities and weights of people.  Someone who weighs 210 pounds is going to need something far more heavy-duty than someone who weighs 130 pounds.
Using The Cellerciser To Get Fit In 10 Minutes Per Day
So now you have this Cellerciser, which can offer you aerobic, anaerobic, and flexibility benefits.
You simply need to bounce for about 10 minutes per day to get fit.  I like to do this first thing in the morning when I wake up – something I do with my morning ritual.
I have a whole formula in place that takes about 10-15 minutes per day, that I do every day to guarantee optimal health. I'll be sharing this with you in an upcoming lesson.
For now, let's talk about one exercise to get you going.
The Health Bounce
The health bounce is the exercise that everyone should start out with. To do this, simply hop onto the center of the Cellerciser and begin bouncing up and down.  That's it.
As you jump up and down like this, you're using three different forces – acceleration, deceleration, and gravity.  All three of these support you, and at the top of each bounce, you achieve a very short amount of weightlessness.
But at the bottom, you achieve the speed times your weight.  Basically, you get an extra push at the bottom, which you then rebound with as you jump back up into the air.
When you compare this to, say, doing a bicep curl or leg extension, you'll see that these exercises are only working for just a single muscle group.  With the Cellerciser, you are working all the muscles in the body as they counteract those three forces.
All the cells in your body begin contracting, achieving that main objective we spoke about in the introduction.  As they do this, they're also pumping waste out of your system and bringing oxygen into your system.
So every single cell in your body is working all because you are leveraging gravity as you exercise.
Think for a second about a little kid on a sugar high. He's eaten a few too many candies and is now feeling the effects. What's he doing?
Chances are, he's starting to bounce up and down.  The reason he's doing this (without even realizing it) is to move fluid out of his lymphatic system. Now he doesn't realize it, but this is his body making him do this.
Children seem to have far more energy, and this is, to a large degree, why.  They don't have as much toxic waste built up in their body as they do a better job at removing it – partially by bouncing up and down on a regular basis.
So as an adult, you are essentially trying to recreate this.
Now, you won't just be doing health bounces.  David has put together a complete 10-minute routine that will target all areas of your fitness level as discussed above.
The best part of this is that it's fun.  Bouncing will really bring out that inner child in you, taking you back to those early days when 'exercise' wasn't in existence, and you just wanted to move your body naturally.
Before you get started doing your jumping, I'd recommend that you hydrate well first.  Drink a letter of water an hour before (not too close, however, or you may experience cramping).
I'd recommend that you use ionized water as it'll absorb a lot better, making the entire process run smoothly.
So check out the website below and consider picking up one of these trampolines.  Get a good quality one or a cheap one you buy will just break down and you'll be out whatever you did spend for it.
There's nothing more expensive than a product that doesn't work, so don't skimp out here.
Click here for more information on the Cellerciser
Frequently Asked Questions