Coconut Recipes Round-Up: 7 Great Ways To Serve This Healthy Fat
Published On September 12, 2017
Do you fear fat? If so, it's time to reconsider your game plan approach. The fact is, the right fats should be a part of your diet plan. The research is in and healthy fats are a must for optimal health. Wondering what good fats will do for you? A few of their key benefits…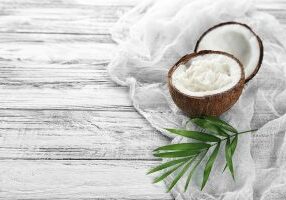 Do you fear fat? If so, it's time to reconsider your game plan approach. The fact is, the right fats should be a part of your diet plan. The research is in and healthy fats are a must for optimal health.
Wondering what good fats will do for you?
A few of their key benefits include:
· Improving your cholesterol profile
· Strengthening your immune system
· Lowering your risk factor for cancer
· Fending off cardiovascular disease
· Improving the look of your skin, hair, and nails
· Providing a long term source of energy
· Stabilizing blood glucose levels
As you can see, you stand a lot to gain from including the right fats in your meal plan. There is one particular fat however that tends to stand out from the rest.
That fat?
Coconut oil – or any form of coconut product for that matter. Coconut milk, coconut cream, or dried unsweetened coconut flakes. All of these are excellent options to include in your meal plan.
What makes this fat so special?
Medium chain triglycerides, which is the form of fat found in coconut oil, milk, and other coconut derived foods offer a few key benefits that other fats don't.
In addition to all of the benefits noted above, coconut oil also has a very high thermic effect of food, meaning that you'll burn more calories simply breaking it down and digesting it.
While most fats are very energy efficient, meaning you'll net just about all the calories you consume from them, with medium chain triglycerides, you'll burn up around 15% of the calories they contain. While this may not seem like much, it can add up over time.
Research published in the American Journal of Clinical Nutrition has noted that substituting medium chain triglycerides with that of regular fats could provide a means of experiencing greater weight loss results provided energy intake remained constant. Essentially this fat can give you an edge up on the other fats you may otherwise be consuming.
From a fat loss perspective, every little bit helps. Research published in the Journal of Nutrition noted that this makes them a very powerful agent in the prevention of obesity. Do keep in mind that balance is still key however. While these fats can help boost overall rates of fat burning in the body, you still do need some unsaturated fatty acids in your diet as well. As coconut oil is 100% pure saturated fat, this means including a mixture of fats will be your better bet.
Second, these types of fats act differently in the body. While most fats take a lengthy time to break down and digest, this type of fat releases its energy very quickly in the body, so it'll be available for you to use almost immediately.
In a sense, this fat variety acts more like a carbohydrate in the body than it does a true fat. This makes it an ideal solution for those of you who are looking to lose weight using a low carb diet but don't want to experience the energy slump that often comes with reduced carb diets.
Serving coconut fat before your workout for instance may help give you the boost you need to get that session done. They can also make the transition period to a lower carb diet easier as well. Many people often experience higher levels of fatigue during that first week or two on a lower carb diet plan, but using coconut oil in replacement of other fats can help you feel more normal thanks to the energy boost they give.
Coconut oil is also a great antibacterial agent. It contains lauric acid and monolaurin, both of which are compounds that can help to kill microbes including bacteria, fungi, and viruses, as noted in the journal Antimicrobial Agents Chemotherapy.
Finally, they also have powerful anti-inflammatory benefits and may help to lower your risk of inflammatory related conditions such as arthritis. Research published in the International Immunopharmacology journal noted that those who use coconut oil may help to see a reduction in symptoms and better overall management of this condition.
So as you can see, coconut fats really do stand out from the rest. Just like regular fats, they still contain 9 calories per gram of fat, so you do need to be mindful of how much you eat. With that said, there is no reason to eliminate this from your diet.
Getting 25-40% of your total calories from healthy fats is a perfectly acceptable strategy for weight loss, weight maintenance, or lean muscle gain and coconut fats can certainly help you achieve those levels.
Now that you know why you should consume coconut fat in your diet plan, how can you work it into your menu easily?
Many people just don't know what to do with coconut oil, milk, or dried coconut therefore don't eat it as often as they should.
All of that is about to change. Let's take a closer look at some of the most delicious coconut recipes you could prepare so that you can see how easy it is to incorporate this fat into your menu.
Try any one of these in the coming weeks and it won't be long before you're noticing a difference in how you feel.
1. Chocolate Peanut Butter Coconut Bites
If you need energy on the go, this recipe is perfect. It's lower in carbohydrates but provides the right balance of lean protein along with healthy fats to keep you energized for hours ahead.
Best of all, it's also a great source of fiber thanks to the peanut butter and dried coconut fiber. If you want to lower your cholesterol levels, this is a great snack to choose.
½ cup chocolate whey protein powder
2 tbsp. coconut flour
¼ cup dried coconut
¼ cup peanut butter
about ¼ cup almond milk
2 tbsp. additional dried coconut flakes for coating
Combine all the ingredients together except the coconut for coating and then form into small bite sized balls. Roll in dried coconut to coat and then serve.
2. Pina Colada Smoothie
Want a taste of the Caribbean? Look no further than to this smoothie. Loaded with energizing carbs, healthy fats, and muscle building protein, this is a great pick-me-up at any point during the day.
The addition of the banana to this smoothie means you'll get both simple and complex carbohydrates, which makes it absolutely ideal for keeping your energy levels on track no matter what workout you have coming your way.
1 scoop vanilla protein powder
1 frozen banana
½ cup pineapple chunks
1 cup unsweetened coconut milk
2 tbsp. dried unsweetened coconut flakes
¼ cup Greek yogurt
1 tbsp. powdered stevia
1-2 ice cubes
Place all ingredients in a blender and blend until well mixed. Serve immediately.
3. Protein Bark
If you're craving dessert but don't want to blow your diet plan, this protein bark may just be the perfect option. It combines quality protein with healthy fats found in coconut oil and peanut butter, giving you a great tasting frozen snack that can easily replace your craving for ice cream any day of the week.
This protein bar can be made using any mix-ins you prefer, so feel free to experiment with this recipe and see what you can come up with.
1 scoop chocolate protein powder
2 tbsp. coconut oil, melted
1 tbsp. peanut butter, melted
2 tbsp. crushed peanuts
Whisk together the protein power with the coconut oil. Stir in the peanut butter. Pour onto a plate covered with parchment paper and then top with crushed peanuts.
Place in the freezer for a few hours until firm. Break apart and serve immediately.
4. Healthy Peanut Butter Cups
Another great recipe to help combat your sweet tooth are these healthy peanut butter cups. These will make you want to forgo the real thing. Loaded with flavor, this recipe is high in fats and low in carbs so it's great for stabilizing your blood glucose level.
As it doesn't contain much protein, eat one peanut butter cup after a well-balanced meal as dessert. The cocoa powder included in this dish is going to be fantastic for providing a number of antioxidants and even some dietary fiber as well.
6 tbsp. cocoa powder
6 tbsp. coconut oil
3 tbsp. liquid stevia
2 tbsp. natural peanut butter
1 tbsp. peanuts
Mix together the coconut oil, cocoa powder, and stevia until well combined. Melt the peanut butter and then stir it in as well. Pour into small silicone muffin cup molds and then stick a peanut into the center of each. Place in the freeze for about 2-3 hours and then remove and serve.
5. Coconut Covered Apples
Here's a unique recipe that'll wake up your taste buds. These coconut covered apples are bursting with flavor and have the perfect combination of crunch with creamy sweet taste. The apple on its own is great for combating hunger so when you add the healthy fats from the coconut oil and peanut butter, you'll get an even better combination.
1 apple, sliced
2 tbsp. dark chocolate chips
½ tbsp. coconut oil
1 tbsp. peanut butter
1 tbsp. unsweetened dried coconut flakes
2 tbsp. slivered almonds
Microwave the chocolate chips and coconut oil together until melted. Place apple on a plate and then drizzle with chocolate mixture. Melt the peanut butter in the microwave and then pour this on top. Finally, sprinkle with almonds and coconut flakes prior to serving.
6. Waffles With Berries
It's a lazy Sunday morning and you want something special for breakfast. Nothing is better than this delicious waffle recipe! We've cut out the unhealthy carbs and fats typically found in waffles and replaced them with healthier sources.
Feel free to add other mix-ins to this recipe as desired. Fruits, nuts, seeds, and even a dollop of Greek yogurt on top would all work great.
1 1/3 cup ground oat flour
4 tsp. baking powder
1 scoop vanilla protein powder
2 whole eggs
½ cup coconut oil
1 ¼ cup unsweetened light coconut milk
2 tbsp. sugar free maple syrup
1 cup fresh blueberries
Mix together the oat flour, baking powder, and protein powder in a large bowl. Whisk eggs together and then combine with dry mixture. Add in the coconut oil (melted), coconut milk, and maple syrup. Stir until thick batter is formed.
Pour into a waffle maker and cook for about 5-7 minutes or until done. Serve topped with more sugar free maple syrup if desired along with fresh blueberries.
7. Coconut Beef Stir-Fry
This delicious dinner will make you feel like eating healthy is a breeze. Loaded with iron, protein, and antioxidants, you simply can't go wrong with this one. Feel free to add in any additional vegetables as desired.
1 ½ cups pre-made brown rice
¾ cup unsweetened light coconut milk
3 tbsp. coconut oil
1 pound lean beef, sliced
½ tbsp. light soy sauce
1 tbsp. peanut butter
¼ tsp. minced garlic
1 green onion, sliced
3 cloves garlic, sliced
2 tsp. grated ginger
2 cups broccoli pieces
1 cup sliced mushrooms
Heat coconut oil in a skillet over medium heat. Meanwhile, combine together the soy sauce, peanut butter, and minced garlic. Add the sliced garlic to the skillet along with beef and sauté for 3-4 minutes. Add in the grated ginger, broccoli, and mushrooms and then continue to stir-fry for another 2-3 minutes.
Finally, add in the sauce and cook for 3-4 minutes or until sauce is evenly distributed. Serve over a bed of rice. Bon Appétit!
References:
Vysakh, A., et al. "Polyphenolics isolated from virgin coconut oil inhibits adjuvant induced arthritis in rats through antioxidant and anti-inflammatory action." International immunopharmacology 20.1 (2014): 124-130.
Nevin, K. G., and T. Rajamohan. "Beneficial effects of virgin coconut oil on lipid parameters and in vitro LDL oxidation." Clinical biochemistry 37.9 (2004): 830-835.
Seaton, Timothy B., et al. "Thermic effect of medium-chain and long-chain triglycerides in man." The American journal of clinical nutrition 44.5 (1986): 630-634.
Kabara, Jon J., et al. "Fatty acids and derivatives as antimicrobial agents." Antimicrobial agents and chemotherapy 2.1 (1972): 23-28.