Effects Of Different Macronutrients On Sleep
Published On April 29, 2023
Most people know that sleep is essential for our overall health, but most people are unaware that nutrition can also affect sleep quality.
Reviewed by Dr. Jose Angel Barrientos, ND
Micronutrients like magnesium and vitamin B6 are crucial, but did you know that macronutrients like proteins, carbohydrates, and fats can make a difference in sleep quality?
For example:
Carbohydrates assist in the production of serotonin, a neurotransmitter responsible for promoting relaxation and sleep.
Proteins supply the necessary building blocks for serotonin and melatonin.
Consuming a lot of fats, particularly before bedtime, can disrupt our sleep patterns.
Poor blood sugar regulation can reduce your sleep quality.
So if you're optimizing your sleep, keep in mind that finding the right balance of macronutrients could be the key to unlocking a night of restful slumber. Obviously dinner and nighttime snacks affect your sleep more, but other meals are important too.
Let's look at each macronutrient in detail and explore the many ways their consumption can influence sleep.
Effects Of Carbohydrates On Sleep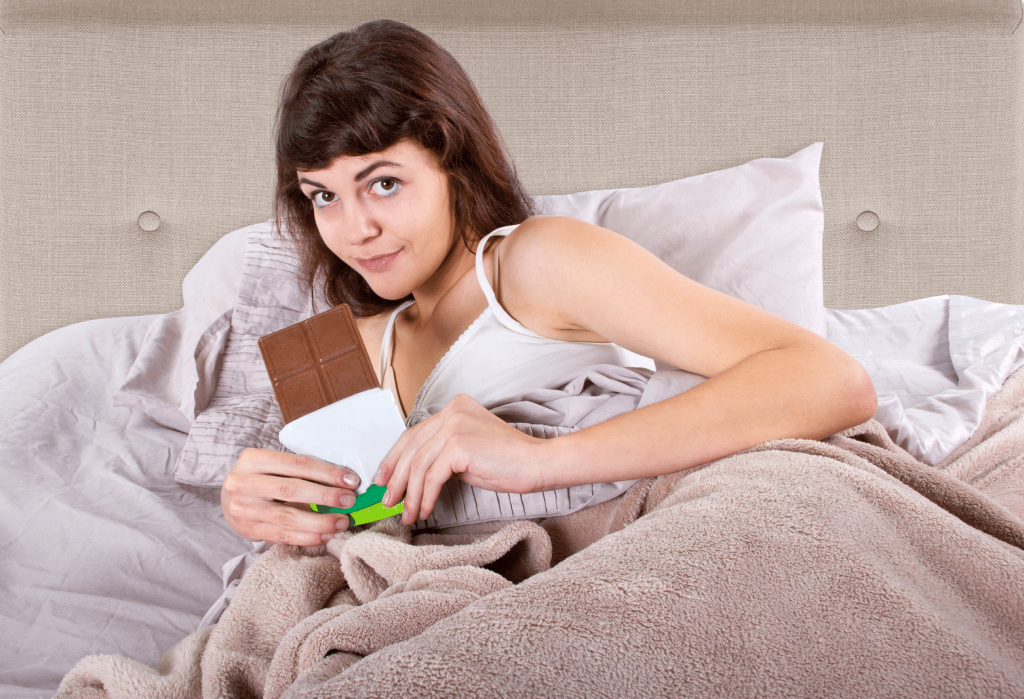 You may recall feeling sluggish and sleepy after a high-carb meal. Carbs can help you sleep or improve your sleep quality. However, they can also hurt your sleep depending on the timing, amount, and type consumed.
Why Do High-Carb Meals Make You Sleepy?
There are 4 ways that high-carb meals can make you sleepy and help you sleep. These effects are temporary and limited to a few hours after you eat.
1) Increases Oxidative Stress And Inflammation
Glucose is an oxidizing sugar, this explains why diabetics struggle with oxidative damages in their bodies. In healthy people, this oxidative stress increases your sleep pressure and makes you tired.
Oxidative stress also triggers the normal inflammatory response that contributes to post-meal fatigue.
The small amounts of inflammation and oxidative stress are essential to help you sleep every night.
2) Inhibits Orexins, The Wakefulness Neurotransmitters
Orexins are your wakefulness neurotransmitters that make you feel energized and awake. High blood sugar blocks orexin neurons in your brain, making you feel sleepy.
3) Helps More Tryptophan Enter The Brain
In response to a high-carb meal, your pancreas releases a large dose of insulin. Aside from helping to bring glucose into cells, insulin also helps bring amino acids into your cells and tryptophan into your brain.
Large neutral amino acids (LNAAs) include:
Leucine
Isoleucine
Valine
Phenylalanine
Threonine
Tryptophan
These amino acids are too large to cross your blood-brain barrier into your brain. Instead, they enter your brain through a protein called LNAA transporter.
These 6 LNAAs compete for entry into your brain. However, unlike other LNAAs, tryptophan is not synthesized in the body and must be obtained from the diet.
Generally, if you eat a high-protein meal, you'll flood your bloodstream with all kinds of amino acids, many of which compete with tryptophan to enter your brain.
When you have a high-insulin release from a high-carb meal, however, the insulin tells the muscles to take up many of the competing amino acids into your muscles. This leaves tryptophan uncompleted to enter your brain through LNAA transporter. Your brain then has more tryptophan to produce serotonin and melatonin.
The increased availability of tryptophan in the brain after a high-carbohydrate meal explains why such meals cause drowsiness and sleepiness.
When Can Carbs Disrupt Your Sleep?
Blood Sugar Fluctuations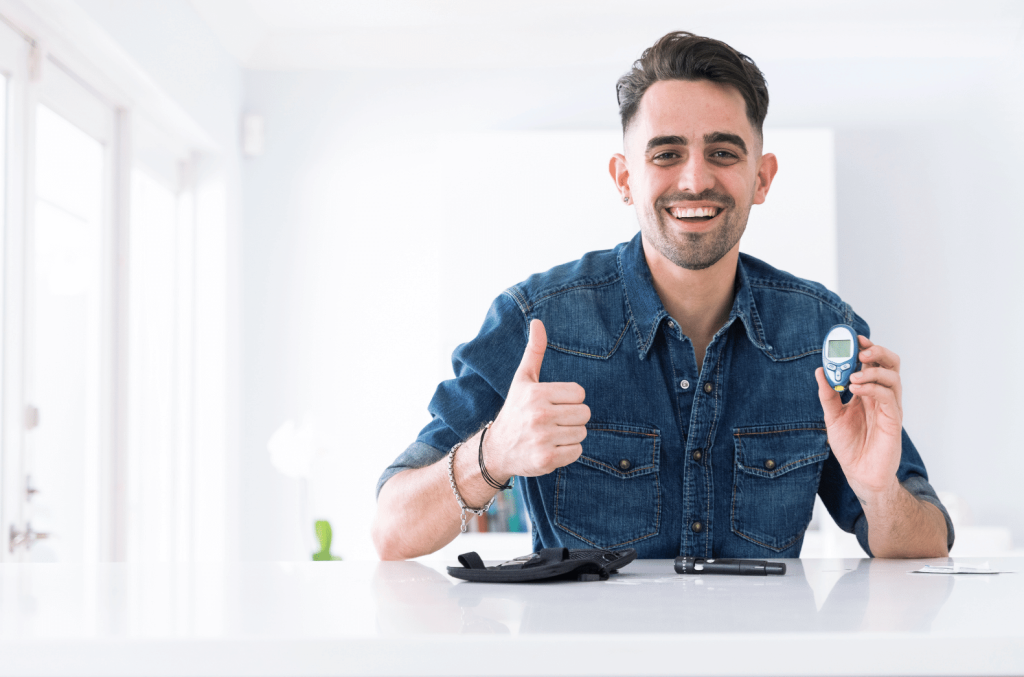 Recent studies show that everyone responds to each carbohydrate food differently, depending on their gut flora.
Now, carbs can become problematic in people with poor blood sugar control. Many factors beyond food contribute to poor blood sugar control, including:
Sedentary lifestyle
Having low muscle mass
Chronic stress
Poor sleep
Nutrient deficiencies
Diets that cause major blood sugar fluctuations
Aging
Some people with poor blood sugar control may struggle with falling asleep or waking up in the middle of the night. That's because the blood sugar drops overnight can wake you up and keep you awake. Or it can disrupt your sleep quality.
A common sign of this is if you regularly eat high-carb and high-glycemic meals throughout the day and struggle with waking up in the middle of the night. In this case, it's a good idea to try switching to lower glycemic carbohydrates. Also, eating 20 – 30 grams of proteins and fiber at every meal can make your blood sugar, mood, and sleep more stable, even if you still occasionally enjoy high-sugar treats.
Bad For Blood Sugar Stability
Breakfast: Cereals, donuts, pastry, coffee, fruit smoothies
Snack: Banana
Lunch: Sandwich or pizza
Snack: Donuts and coffee
Dinner: Pasta and ice cream
Better For Blood Sugar Stability
Breakfast: fruit smoothies with a scoop of protein and spinach, or sausage and eggs with a side salad
Lunch: Steak, chicken, or fish with a large salad with legumes
Snack: Hard-boiled eggs, low-glycemic fruits, and nuts
Dinner: A piece of fish with rice or potatoes, and vegetables
While it's super important that your dinner doesn't throw off your blood sugar, working towards healthy blood sugar control involves all meals.
Insulin May Reduce Melatonin
High-carbohydrate meals stimulate the production of the hormone insulin-like growth factor (IGF-1). IGF-1 plays a role in growth and development, metabolism, and cell survival. High IGF-1 levels may suppress melatonin production.
This is one of the reasons why eating too close to bedtime can reduce sleep quality, even though the high-carb food can induce fatigue.
Effects Of Proteins On Neurotransmitters And Sleep
Protein intake can hurt or help sleep, depending the type, amount, and timing of when you eat it.
Protein consumption can affect sleep in a number of ways, largely through the following biological mechanisms.
Providing Amino Acid Sources
Many key neurotransmitters that play roles in sleep and wakefulness are based on amino acid backbones, such as:
GABA (Gamma-aminobutyric acid) is an inhibitory neurotransmitter that reduces brain activity and is a key player during sleep. GABA is made from the amino acid glutamate.
Acetylcholine is involved in memory, learning, and muscle movement. Although not an amino acid, choline is made from the amino acid serine.
Norepinephrine is involved in the body's stress response and the regulation of blood pressure and heart rate. Norepinephrine is made from the amino acid tyrosine, which is also a precursor for dopamine.
Serotonin regulates mood, sleep, appetite, and cognition. Serotonin is made from the amino acid tryptophan. Your body also converts serotonin into melatonin.
Dopamine regulates movement, mood, learning and memory, and attention. Dopamine is made from the amino acid tyrosine.
Consuming protein-rich foods increases the availability of these amino acids in the body, providing building blocks for increased neurotransmitter production.
Insulin Response
Protein helps regulate blood sugar levels, improving sleep quality at night. Protein can also help keep you satiated, minimizing nighttime hunger and improving sleep.
However, proteins that contain the amino acid leucine can trigger insulin release. Dairy proteins can rapidly release insulin, which leads to a drop in blood sugar levels in some people. This drop in blood sugar can cause drowsiness but also can make it hard to fall asleep for others.
High protein intake, insulin release, and sleep quality are interconnected in a complex manner. A high-protein meal tends to have a lower impact on insulin release than a high-carbohydrate meal.
Protein has a lower glycemic index, which means it causes a slower and more moderate increase in blood sugar levels, requiring less insulin to manage these levels.
Increasing Body Temperature
Protein has a high thermic effect, which means digestion increases your metabolic rate and makes you feel physically hotter. Therefore, eating a high-protein meal late in the day can give you meat sweats and make it hard to fall asleep at night.
Effects Of Fats On Sleep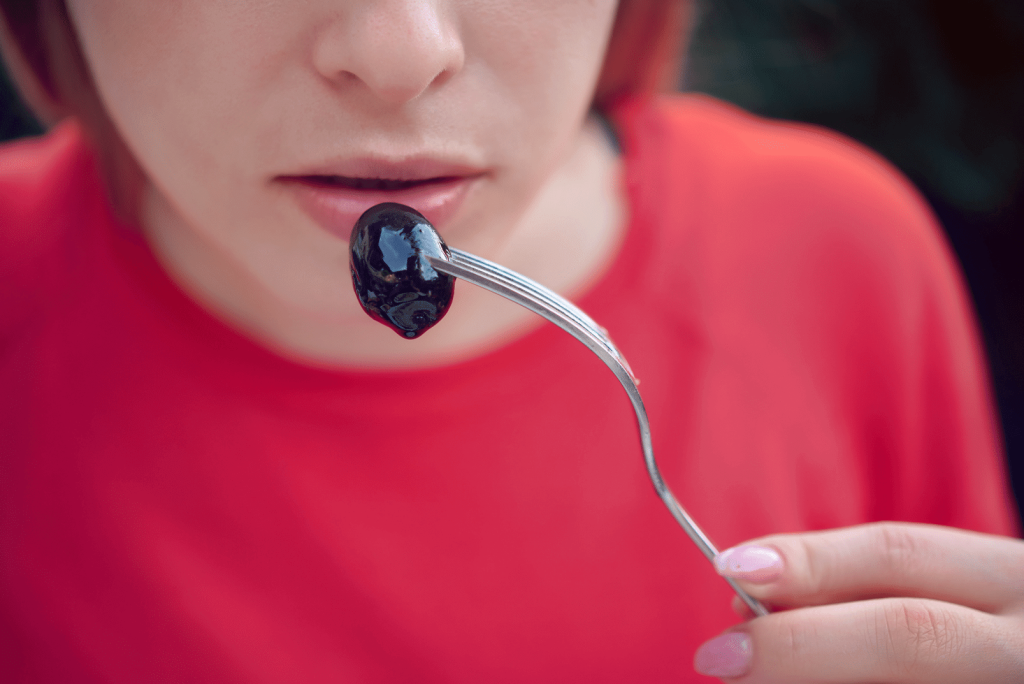 Fats can have positive and negative effects on sleep, depending on the type and amount of fat consumed.
Consuming healthy fats improves sleep quality by regulating the production of the neurotransmitters serotonin and dopamine.. These are important for mood and behavior.
Healthy fats include:
Monounsaturated: found in avocados, nuts, seeds, olive oil
Polyunsaturated: found in salmon, vegetable oils, flax, sunflower seeds
Consuming too much unhealthy fats is associated with less restorative sleep and more frequent awakenings. Unhealthy fats include:
Saturated: found in beef, pork, poultry, dairy, eggs
Trans: found in fried food and commercial baked goods
Fats affect the production of hormones and regulate inflammation in the body. The omega-3 fatty acid DHA (docosahexaenoic acid) affects the body through:
Supporting healthy melatonin production
Promoting a balanced inflammatory response
Supporting nerve and brain health
Boosting mood
All of these processes in the body lead to improved sleep quality and quality of life.
Fatty Meals And Acid Reflux
Some people find that high-fat meals cause or worsen their acid reflux symptoms, especially when they consume such meals too close to bedtime. Acid reflux symptoms can include:
Heartburn
Regurgitation
Trouble swallowing
Chest or stomach pain
Coughing, especially when lying down
Dental cavities with no other known causes
Fatty foods slow down stomach emptying, causing food to remain in the stomach for longer. When this happens, the stomach produces more acid to digest the food. In people who already have esophageal sphincter that prevents stomach acid from backing up, they can experience worse acid reflux.
Acid reflux can be particularly problematic when trying to sleep, as lying down can worsen symptoms by allowing stomach acid to flow more easily into the esophagus. This can cause discomfort, chest pain, and difficulty falling and staying asleep. In some cases, acid reflux can also interfere with breathing during sleep and cause sudden wakefulness
The timing of fat consumption is also important for sleep quality. High-fat meals close to bedtime cause digestive discomfort and interfere with sleep.
Consuming a moderate amount of healthy fats earlier in the day helps regulate the body's circadian rhythm and promotes better sleep quality.
Conclusion:
Your meal components can definitely affect your sleep quality. If you want to improve your sleep, it's a good idea to examine what you're eating and experiment with different macronutrient compositions. Generally, a high-carb, moderate protein, low-fat, and low gut irritant dinner is best for sleep. However, there are other nuances and individual needs that leave room for further optimization. When in doubt, it's best to try for yourself and track your sleep to see how your body responds.