Part 1: Menopause Diet – How Nutrition Can Influence Your Symptoms and Wellbeing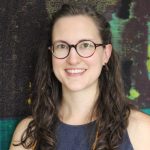 Published On January 27, 2023
As women, if we're not already there, we all know that it's coming: menopause. You've probably heard dramatic, often funny stories of women stripping off layers of clothes as an unexpected hot flash hits them.
Fact checked by Nattha Wannissorn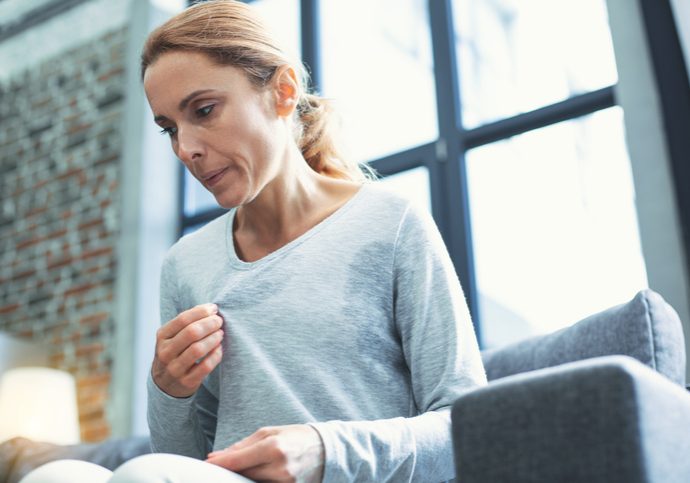 You may worry about the other symptoms that may come with it, like:
Night sweats
Bone loss
Increased inflammation
Belly fat
Weight gain
Thinning hair
Sleep problems
Mood changes
Changes in libido
Fatigue
When menopause begins it is very individual to you, but usually, it starts sometime in your 30s or 50s. The average age in industrialized countries like the United States is 51. The official diagnosis is when you've gone 12 months without a menstrual period.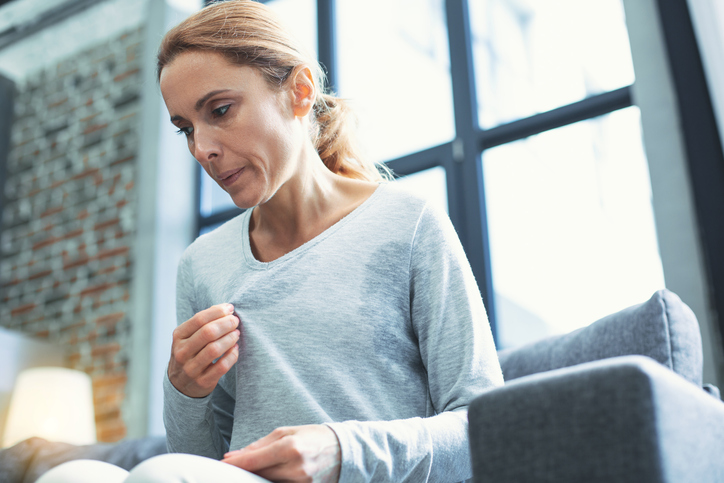 Leading up to menopause, your estrogen levels begin to drop, and your ovaries stop releasing eggs as frequently. When you are in menopause, your ovaries produce very little estrogen and stop releasing eggs altogether.
At BiOptimizers, we always want you to feel your best no matter where you are in life. In this article, we'll discuss nutritional factors that influence your menopause experience and how you can best support your body to transition through menopause smoothly.
How Nutritional Factors Can Influence Menopause
Blood Sugar Control And Insulin Resistance
When going through menopause, hormonal changes make you more likely to become insulin resistant and struggle with blood sugar control. Your body uses insulin to balance your blood sugar levels by removing glucose from your bloodstream after you eat and pushing it into your cells, where it is either used or stored for energy.
Women in menopause begin to experience an increase in belly fat and a decrease in a protein called adiponectin. This protein, produced by your fat, helps make your cells more sensitive to insulin to support glucose metabolism. Low adiponectin levels during menopause reduce insulin sensitivity making you more likely to become insulin resistant.
With reduced insulin sensitivity, your body continues to pump insulin to help manage the rising blood sugar levels. Higher insulin levels increase your risk of developing metabolic syndrome, type 2 diabetes, and fatty liver disease.
Nutrient Deficiencies
Menopausal changes also put you at risk for nutrient deficiencies. We'll cover some of the most important ones that you should consider.
Magnesium
Magnesium is one of the most essential nutrients for the human body. It is critical for hundreds of biochemical reactions in your body and supports brain function, mood stability, and bone health. Magnesium also helps regulate your glucose and insulin levels.
A magnesium deficiency can exacerbate the following conditions during menopause:
Poor blood sugar control: Magnesium deficiency leads to a higher risk of insulin resistance.
Declining bone density: Magnesium is a key component of bone tissues. Women with low magnesium levels are more likely to have lower bone density.
Mood issues: Women with low magnesium levels are more likely to experience mood problems and unstable moods. Low estrogen also lowers magnesium inside of cells, especially neurons
Sleep problems: Magnesium deficiency can contribute to a disrupted circadian rhythm and increase the likelihood of sleep struggles
Muscle weakness and cramps: Low magnesium increases muscle cramping
Inflammation: A magnesium deficiency promotes low-grade inflammation
Low testosterone: Low magnesium contributes to low testosterone levels leading to low libido and fatigue.
Note: We're not suggesting that magnesium alone treats these conditions. It's only one of many contributors. However, making sure you have healthy magnesium levels will make menopause a lot smoother.
Vitamin D
Having adequate vitamin D levels are important throughout life, but even more critical during menopause. Estrogen increases the enzyme activity that activates vitamin D in the body. As estrogen levels decrease with menopause, so do your vitamin D levels. Lower vitamin D levels are also more likely with the increased body fat that comes with menopause.
Vitamin D deficiency during menopause contributes to:
Bone loss
Risk of metabolic syndrome
Mood and mental health issues
Impaired cognitive function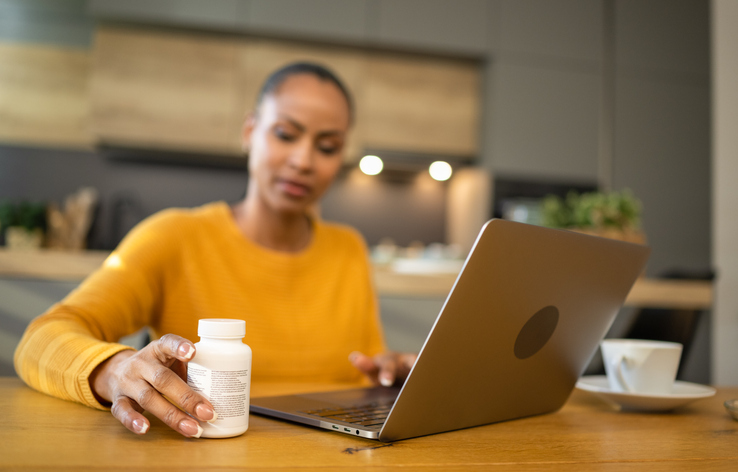 Omega-3 Fatty Acids
One of the first signs of an omega-3 deficiency is dry skin. When your omega-3 levels are sufficient, it helps strengthen your skin barrier and prevent moisture loss.
Omega-3s also play an essential role in preventing your hair from falling out. An omega-3 deficiency leads to drier hair and decreases the health of your hair follicles.
While there is some conflicting research, some promising research shows that omega-3 deficiency may contribute to mood issues and hot flashes, leaving the door open for potential correction with supplements. Omega-3s affect nerve transmissions throughout your body, which helps regulate your mood and body temperature.
Calcium
You probably saw this one coming. Bone loss is a significant concern for menopausal women and, if not taken seriously, it can lead to osteoporosis and increased fracture risk. This occurs because while estrogen decreases, calcium resorption from your bones increases. Avoiding calcium deficiency is critical for prevention.
In a longitudinal study of 2000 women, researchers tracked bone loss throughout the menopause transition. Women experienced a rapid 3-year bone loss phase around the final menstrual period and two years after the final menstrual period.
Your blood calcium levels are not indicative of your bone density because your body ensures that blood calcium is within a narrow range. However, you should regularly check your bone density and work with your health practitioner to determine appropriate calcium supplementation.
Vitamin B Complex
B vitamins are critical for cellular metabolism. They work as cofactors to enzymes that produce energy, maintain the nervous system, metabolize hormones, and more.
A meta-analysis of 18 studies examined the relationship between B vitamins, mood, and stress levels. Researchers found that low B vitamin levels can lead to:
Increased irritability and worse mental health
Reduced ability to handle stress
When your B vitamin levels are low, you are also more likely to experience fatigue due to their role in helping you use carbohydrates, fat, and protein for energy.
Vitamin B6 deficiency, in particular, is associated with many concerns that come with aging. B6 plays a role in the production of serotonin which we discussed earlier, that helps stabilize your mood. It also supports healthy levels of homocysteine, an amino acid that, when low, can increase the risk of bone fractures.
Many menopausal women complain about "brain fog," which leads to some forgetfulness and difficulty concentrating. A deficiency in B vitamins can also be the culprit.
Zinc
Like all of the nutrients we've discussed, zinc is important during menopause and beyond. It plays a critical role in many ways, such as:
Protecting your cardiovascular system by fighting against inflammation and oxidative stress
Playing a crucial role in cell function
Improving your memory and cognitive function
Helping with neurotransmitter functions and mental health
Supporting healthy energy levels
Promoting healthy insulin sensitivity
Supporting the growth of skin, hair, and nails
Playing a vital role in collagen synthesis and the formation of connective tissue
With all of these in mind, a deficiency can contribute to drastic changes throughout the body, including menopause symptoms, but also beyond.
Selenium
Estrogen plays a vital role as an antioxidant in your body, so when your levels decline with menopause, your body has to deal with additional oxidative stress. Stepping up to assist is an enzyme called glutathione peroxidase, which helps mitigate the oxidative damage. Selenium is a critical mineral that serves as the enzyme's cofactor to get to work.
Selenium is also critical for proper thyroid function. In fact, your thyroid contains the highest amounts of selenium in your body. Decreased thyroid function can lead to:
Weight gain
Fatigue
Brain fog
Thinning hair or hair loss
Unstable mood or depression
As you can see, many nutrients contribute to the proper function of your body, which becomes even more critical as you move through menopause. You can test for many of these deficiencies with a simple blood test. Talk to your health practitioner if this may be a concern for you.
Poor Gut Health And Gut Flora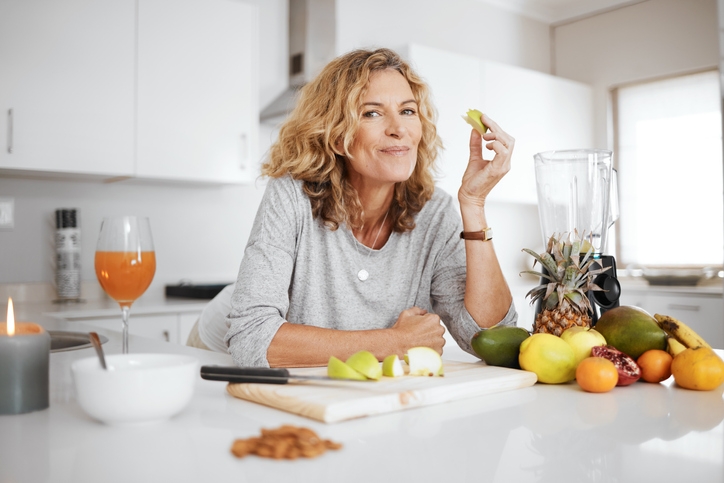 As you go through menopause, your gut changes with you. Research tells us that lower estrogen leads to lower gut flora diversity. This can lead to gut dysbiosis or an imbalance in your gut which can affect your ability to break down and absorb all of the nutrients we've covered that are critical to your well-being.
Progesterone levels also decline, and the lower estrogen levels may lead to increased gut permeability, putting you at a higher risk of leaky gut.
Your gut can put estrogen, progesterone, and other hormones back into circulation and help balance your hormones. Research is still exploring how the gut can be optimized to support menopausal women.
High Toxic Load And Estrogen Dominance
Toxins surround us in the food that we eat and the air that we breathe. Many of them can interfere with your estrogen function and make menopausal symptoms worse like:
Weight gain
Increased fatigue
Lower sex drive
Decreased brain function
Mood swings
Some of the worst toxic offenders include:
Pesticides: found in conventional fruits, vegetables, meats, drinking water, and even the air you breathe and surfaces you touch.
Parabens: commonly used in lotions, cleansers, make-up, and in food as a preservative.
Bisphenol A (BPA): a plastic used for plastic silverware, drink containers, toys, car parts, and food packaging.
Heavy Metals: this category includes lead, cadmium, arsenic, and mercury, among others. They naturally accumulate in food and our water sources.
These toxins work as hormone disruptors in your body by reducing your estrogen production but also by acting like estrogen metabolites (the product of when your body breaks down estrogen). This creates a scenario where you might test low for estrogen due to decreased estrogen production but still experience symptoms of estrogen dominance.
Estrogen dominance occurs when progesterone levels are low relative to estrogen levels. Progesterone is what keeps your estrogen in check and is necessary for:
Bone development
Healthy blood sugar control
Quality sleep
Cognitive function
Being in a state of estrogen dominance can increase your health risks of:
Breast cancer
Polycystic ovary syndrome (PCOS)
Thyroid dysfunction
Blood clots and stroke
Now you're aware of nutritional factors that can affect your menopausal transition. In the next article, we'll share 8 nutrition and lifestyle tips to get through menopause smoothly and healthfully.