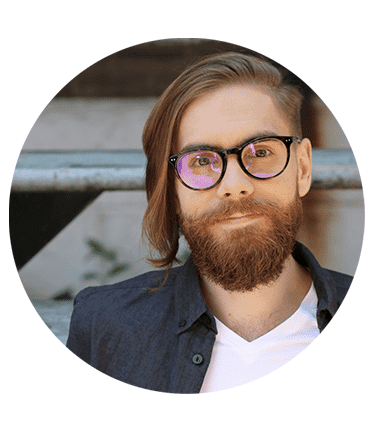 Do you know how to protect yourself from EMFs? Do you even know what they are, and if there is any factual reason to protect yourself? You will after you listen to our guest, Nick Pineault.
Today Nick shares his background in alternative health, as well as what he's discovered about EMFs through his own personal experimentation.
You'll hear him explain exactly what EMFs are, and why we should pay attention to these silent, odorless electronic radiation waves. He'll clue us in on how to know if we are being impacting by EMFs and how to protect ourselves on episode 13 of Bioptimizers' Awesome Health.
In this episode of Awesome Health, you'll also hear:
Does the microwave signal exist in nature?
What is the one-click fix to reduce your EMF emissions by 84%?
How sleeping with your cell phone under your pillow harms your body.
And much more!
More About Awesome Health with Nick Pineault

For the last five years Nick Pineault and his wife/business partner have been writing daily newsletters documenting their health experiments. He researches topics and reports his findings back to the people on his email list.
Recently one of those topics was whether or not cell phones cause any physical harm, like brain cancer. He had heard from some experts that this was the case, but then he heard other experts say cell phones are fine.
Based on his 10+ years as a health journalist he's found that when there are two strong opposing sides the truth is in the gray area in between them. And that's the case with cell phones and EMFs.
Despite that gray area, many countries are taking action to reduce levels of EMFs. These countries (not the US and Canada) have decided that even though there isn't conclusive evidence cell phones are harmful they are taking precautionary steps in case it is proven otherwise.
As of now there isn't a lot of testing for cell phone or other devices that emit EMFs, there's no FDA regulation or pre-market testing like there is with pharmaceuticals and supplements.
What Are EMFs and What Are Some of Their Potential Side Effects?

Before we jumped too far down the rabbit hole, I asked Nick to explain what EMF is exactly. EMF stands for electromagnetic fields, and these are the fields that are emitted when a signal is transmitted and received from one device (like a cell phone or laptop, etc.) to a cell phone tower.
Nick goes to explain that EMFs do impact you, even though you don't necessarily feel them or hear them, and you don't see them. Because EMFs are silent and invisible many people think it's a non-issue, but that's not what Nick has discovered in his research.
EMFs are becoming more and more of an issue as the list of our smart devices grows. The fact is any kind of smart device from a laptop to a cell phone to a Bluetooth transmitter (even your smart toaster!) all emit EMF signals and receive them. As these signals are sent and received it actually increases the levels of EMFs around us, something that has come to be called electrosmoke.
As those levels increase more people are experiencing side effects from EMFs. Some of those symptoms include overall fatigue, headaches, tingling in fingers, and poor sleep. The last one impacts many people because they sleep with their phone next to their bed or even under their pillows. In fact, the teenagers who keep their phones under their pillows are experiencing severe insomnia at the right of 1 out of every 2 kids.
Ways to Protect Ourselves From EMFs

Which of course begs the question – what are ways to protect ourselves from EMFs? Now that we know what they are EMFs are and what their potential side effects are also, Nick gave us some practical advice on how to lessen our exposure.
One simple thing you can do is to create distance between the source of the EMFs and yourself. One foot between you and your EMF-emitting device reduces EMFs by 80% and two feet or more reduces that number to nearly 95%.
When you're sleeping if you want your phone nearby, just turn airplane mode on when you sleep. And if you can, it's even better to put your phone in another room. You'll know you're getting better rest because you will remember your dreams.
Another of Nick's suggestions is to get a wired headset to talk on your phone and holding the phone a foot away as you use it. It must be a wired headset and not a Bluetooth one because Bluetooth also emits EMFs. According to Nick's research, some Bluetooth headsets have been shown to produce even more EMFs than a cell phone.
You can also get a landline too and you can set your phone to transfer the call to your landline when your cell is in airplane mode.
How to Reduce EMFs From Your Laptop

Another EMF-emitting device many of us have is a laptop, and a lot of us use them by holding them directly on our laps. Instead of exposing our bodies to EMFs this way, we should put the laptop on a desk in front of us. He also recommends using your laptop like you would a desktop. Put it on a desk and sit a little further away from it. You can follow in his footsteps by getting a laptop desk and a standing desk for using your laptops. This will remove 95% of the problem!
Although not many studies have been done on the harm laptops cause when held on our laps there was one that reported men who used their laptops for four hours on their laps had a 25% reduction in sperm mobility. While it was a small sample size the results are worth noting.
You can also buy programs like Daily Blanket or any of the Defender Shield products (the Defender Pad is for laptops and tablet-type devices).
A final suggestion from Nick is to connect your laptop using an Ethernet connection and you'll stop EMF transmissions from your laptop all together.
We continue on the topic of EMF blocking devices, including whether there are any legitimate cell phone case blockers and if there is any benefit to EMF harmonizers. And we finish with a discussion on grounding/earthing, and why you should use a 3-prong plug for your laptop. Nick has many insights on those topics, and you'll have plenty of practical knowledge and tools at your disposal for combating EMFs after you listen to episode 13 of Bioptimizers' Awesome Health!
Episode Resources