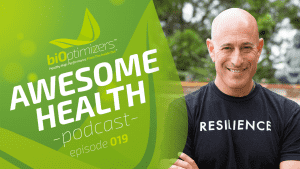 Do you feel unfulfilled but don't know how to pivot and find your calling? Our guest for today was in your shoes complete with golden handcuffs, and he has wise words to help you pivot and change wherever you are in life.
Adam Markel is an expert at personal and professional reinvention and transformation. He's also the best-selling author of Pivot, and is the perfect example of someone who walks his talk.
On today's episode, Adam tells us about his previous life as a lawyer who built a massively successful business and then pivoted to become the CEO of one of the most successful personal development companies in the world.
Later he again pivoted to run his own organization helping people make their own conscious pivots, which is what he does presently. He goes into detail about what it was like to make those pivots, what resilience means to him, and the power of our daily rituals. Hear from Adam on those topics and more on this edition of Awesome Health.
In this episode of Awesome Health, you'll also hear:
What does success without fulfillment feel like?
How rituals create the quality of our lives, and how to shift those if needed.
Why do we need to build temporary bridges in order to pivot?
Can you focus on more than one thing at once?
How to reframe anything into a gift.
And much more!
More About Awesome Health with Adam Markel

We start off with his back story: careers are very different now versus a few decades ago. Hardly anyone gets a job with a company and spends their entire career with that same company, people reinvent and transform themselves over the course of their lifetime.
And Adam is no different. I was curious to know how he got into transformation as a profession, and that is where we start our conversation. In short, Adam says the back story is pain. That pain for him was waking up in the morning and feeling dread. He would have no desire to get out of bed, he was a little emotionally and physically exhausted but more than that he had no enthusiasm for the work he was doing.
He was successful by the conventional definition of success: he had plenty of money, he had a business of his own that included two law offices in two states and he was married to his college sweetheart and they have four healthy kids.
Yet he woke up every day feeling something was off, something wasn't right. There were signs along the way, but it was a gradual process. Inside he felt like a failure, despite the outward appearance of success. He describes failure as being successful without the feeling of fulfillment.
A Midlife Calling, Not a Midlife Crisis
This feeling continued until he ended up in the hospital. He and his wife were headed to his son's baseball game one Saturday afternoon. Suddenly he pulled off to the side of the road because he was sweating profusely, his heart was racing and he couldn't catch his breath. The next thing he knew he was on a gurney in the emergency room waiting for a doctor; Adam truly thought he wasn't going to see his kids again.
He was so angry at himself for letting this happen, his inner critic was berating him for getting into this position. When the doctor walked in he told them straightaway Adam wasn't having a heart attack, he had an anxiety attack.
The most important part of that conversation though was the doctor telling Adam he might not be so lucky next time; the doctor told Adam needed to figure out what was going on and fix it. A few hours later Adam left the hospital, thanking God he had been given a second chance and a reprieve.
So how did he make the transition? Often we create our own "golden handcuffs" and build a career path, and a way of living that seems too hard to steer away from but Adam made a conscious pivot after his medical scare.
He felt the hold of the golden handcuffs, and looked at making changes. He made a way to be at home and/or closer to home more often. But six months later on a cold and rainy night, he got home at night dripping wet and realized he missed the kids going to bed again. He'd missed another chance to read his kids a bedtime story, and he could see it written on his wife's face. He walked straight up to her and said "If I keep doing what I am doing you are going to be a widow."
That realization hit home in a big way. His wife didn't remind him of all the golden handcuffs, she smiled and said "We will figure it out." For the next 2.5 years that is what they did; they created a Plan B. Instead of having a midlife crisis, he and his wife were able to plan for a midlife calling.
Rituals Determine The Quality of Our Lives
I asked him to go into more detail on those 2.5 years, and specifically asked him to tell us about his rituals and how those determine the quality of life. Up until that point he had created rituals that had helped him build the life he had, but now it was time to change those rituals to support a new life.
Too often this is a point people miss: how difficult it is to let go of those old rituals and replace them with new ones to support a new life. He is a firm believer in replacing the negative with the positive, yet we rarely talk about how to do this.
One of his rituals was to be a workaholic; he would do anything to be successful in his law practice, he says he was a beast! So he had to soften himself and look at where he was willing to burn relationships or not care enough about them more than he cared about money and power. He says he was addicted to control, that was also one of his rituals and it is something he works on to this day.
Adam goes on to tell us what that looks like exactly, how his daughter's advice in Paris woke him up to his next pivot and why it isn't stress that kills but the lack of recovery from stress that is so detrimental.
You'll hear that plus Adam's daily rituals and his advice if you are struggling on today's Awesome Health podcast.
Episode Resources