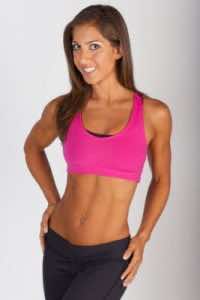 Peak performers in all industries share a commitment to the spiritual journey of excellence. A person who epitomizes this is Kelly Gonzalez, and that is why I'm so excited to have her on today's episode of BiOptimizers' Awesome Health show.
Kelly is an amazing person who has achieved so much at an early age. She's been a Miss Olympia competitor, she holds a Master's in Exercise Science and she can do things with her body that will blow your mind!
Kelly is here to share her perspective on on health, healing, high performance and much more on episode 7 of BiOptimizers' Awesome Health podcast.
More About Awesome Health with Kelly Gonzalez

Because Kelly can trace so much of her success back to her fitness roots, I wanted to know how she got into this world in the first place. She answered by sharing her childhood, which was filled with nature, taking care of the animals her family owned, and her wild imagination! She had no other kids nearby so she made up games for herself, and she also watched her mom's fitness videos.
From all of the animal care and the fitness videos, Kelly was in excellent shape. She specifically recalls a push up contest at school when she did the most: 40! All the boys made fun of her – even though she had beaten them all – and she felt ashamed and embarrassed. Until her gym teacher told her to never feel ashamed for being strong.
She later found the sport of Lacrosse, and trained on her own because there were no other kids nearby to train with. Through dogged pursuit and perseverance, Kelly made the team and was a terrific player. In fact, she went on to play Division 1 at Johns Hopkins University, a goal she had set for herself.
It was the first time she had fully created something for herself in her life, and it was the start of many life-changing experiences she would have.
Learning To Follow Her Passions
By her junior year of college, she came to a few significant realizations: she had to plan for life after lacrosse and she had to find a new career path because she didn't want to be a doctor. She had been pre-med up until that point but she saw doctors only worked with sick people, and she wanted to help people avoid getting sick in the first place. She wanted to save people the pain of illness through the promotion of health and prevention.
She also began doing distance running at the time. She had always had a dream of running a marathon so after some lifeguard training runs in the sand, she started running on concrete and was able to easily run a half-marathon.
Because she didn't know how to train for a marathon she started running for time. When it came time to sign up for the marathon, she registered with the Boston Marathon's qualifying pace group! She felt so good during the marathon she outpaced her group and ran it in 3 hours and 36 minutes, coming four minutes under the necessary qualifying time of 3:40.
Her senior year she devoted herself to training for the Boston Marathon. She took her usual committed approach: she organized her schedule to support her training, and she moved to Anapolis and lived in her aunt's garage so she could run and train with a group from the nearby Naval Academy. It was another situation where the passion came and she did whatever she could to follow it and embrace it.
After reaching her goal of running in the Boston Marathon, she began developing some physical issues from running so she became more involved in lifeguard competitions. She did really well, won regionals and was invited to compete at nationals with the US Lifesaving Association (Team USLA).
Again, she organized her life to support this goal. She worked with her college to finish all of her first semester courses by Thanksgiving, she held fundraisers and made it happen. She spent a month in Australia and competed. When she was there she was invited to come back to Australia as an international competitor, and she went for it. After graduating college, she bought a one-way ticket to Australia.
While in Australia, she continued to contemplate how to use her skills of fitness training and writing, while being exposed to a lot of natural healing remedies and interpersonal work like meditation. She spent much of her time in the library reading holistic health magazines, which in turn shifted her writing from fitness to a more holistic approach to health. And she wrote a lot of articles about her findings and her perspective.
Through more self-discovery she again opted not to go into the healthcare industry when she returned to the States. At the time, web sites were just becoming a thing so she wanted to build a website and share the articles she had been writing over the years.
She also wanted to show she lived the lifestyle by having photos of her on the website, so she hired a trainer to get her into shape for a photo shoot. It went well and the trainer suggested she participate in the NPC Bikini Division. He told her it would be a great for her, and she was excited because the competition would give her the goal to focus on. She entered and won the competition and was invited to Nationals. She placed 2nd and found the experience different, and fun.
Kelly's Process To Do Anything In 3-6 Months

As I listened to Kelly's stories, I noticed a pattern and I asked her to expand on it. She is able to do anything she sets her mind to, and to do it in a short amount of time. Here's the process she outlines on today's show:
The first step is usually the crisis/burnout stage. When you are here you are lost, and have no idea what is next. This usually feels uncomfortable, but you have embrace the pain to get through it. This stage is the valley and from here you learn that the summit does not bring you fulfillment. Kelly says you choose to go on the journey, but that journey is not you. This is also the stage in which you do a lot of internal work, and that leads to the second phase.
Step two or phase two is when you create space for something new to come in and this is where the transformation really happens. This period leads you to a new way of being.
The third phase is when you spark awareness and things start to reflect your new way of being. You start to see aspects of your new self show up in your life. For example, if you find yoga in step two you suddenly notice opportunities to practice more yoga and more yogis come into your life to help you.
Step four is when you take action, you ignite your passion and you get going. Here you also make sure you have enough resources (like books, mentors, etc) to sustain you as you take action.
The next phase is to keep the flames going, give yourself appreciation and congratulate yourself for small wins. And you keep going no matter what is happening around you.
Which leads to the sixth step or phase of staying humble. No matter how much you accomplish and achieve from the previous five steps, you remain humble because you know that spark within you can flicker and your inner flame can dampen.
And the final stage is the stage of shining brightly, and becoming what you practice in every aspect of your life. The world sees your brightness and sees you walk your talk.
That final stage leads to my question about how shining brightly fits into a health and fitness regimen. Kelly explains in more detail on today's show, but in short it means diving deeply into your own habits tendencies and mental mindset. You find out why you do what you do, how to motivate yourself, how to retrain your brain – and you practice doing so over and over and over again.
Today we also talk about how Kelly works with her clients, why we don't need to push ourselves 110% every single day, and if there's a difference in how men and women approach intrinsic motivation.
We wrap up with a deep dive into how her meditation practice evolved, and the emotional journey she went on to reconnect with her own inner spirit and Source. This is an enlightening discussion about the power of following your passions, and role inner work plays when it comes to our health, fitness and our bodies. Join me and Kelly Gonzalez to hear more on episode 7 of Awesome Health podcast.

Episode Resources