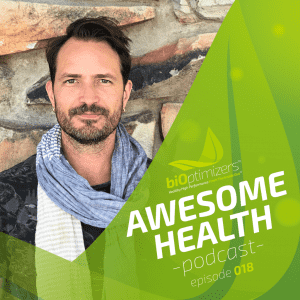 When someone says life stylist what immediately comes to mind? Spiritual pursuits? Biohacking? Those are some of the words that would describe our guest today, life stylist Luke Storey. Luke is a former fashion stylist, musician, model and former addict who has lived more in one life than most people do in 15!
And he's here today to share his stories, insights and wisdom on this episode of Awesome Health. In his former life Luke worked with bands like Aerosmith, but today he's a world class biohacker who does speaking engagements, retreats and intensive workshops on spiritual pursuits and healthy living. Join our conversation to hear all the details and some fascinating stories on today's Awesome Health podcast.
In this episode of Awesome Health, you'll also hear:
Who were the first rock stars to come out as sober?
What is the path he has walked his entire life?
When did he realize it was time to enter rehab?
How he avoids the dogma around different types of "diets".
What is the highest compliment a human could receive?
And much more!
More About Awesome Health with Luke Storey

Luke Storey is a former fashion stylist who now helps people style every aspect of their lives from the spiritual to the physical. He spent 17 years in the "Hollywood machine" helping everyone from musicians to actors to celebrities look good for the camera. All the while he pursued spirituality, metaphysics and health in his own life.
Three years ago he decided to launch his podcast and retire from the fashion world to start new as a life stylist. He came up with the term life stylist because it's similar to his former work as a fashion stylist except it is curating a different look, practices and principles for someone on a deeper level.
I was curious how those two separate worlds collided for him – what led him from one into the other?
Luke tells us the story, a very classic hero's journey: he had a rough childhood and experienced trauma and dysfunction in his environment. He says in retrospect it is his greatest gift because it has propelled him into the different elements of personal development he's explored. But it was that abject pain that led him there.
As a result of his childhood traumas he developed a lot of pathologies; physically he was malnourished and became addicted to drugs and alcohol. At 19 he moved to Hollywood as a musician and got into the music industry. In one sense he was living a dream life style: he was just out of high school, moved to Hollywood and started hanging out with musicians and playing in bands with his musical heroes. It was exciting and fun. But he was also addicted to drugs and when he got access to some of the more dangerous drugs it got really dark during the following 5 or 6 years.
At one point he realized he was facing a painful and imminent dead end of a life. It was then he decided to sober up, and he checked himself into rehab. While in rehab he had a profound spiritual experience that rendered him sober from that day forward (22 years ago). That spiritual transformation was so profound he became obsessed with understanding it.
He also began exploring recovery and how its different elements played out in every area of his life from sex to money to relationships, etc. He looked deep into all of his false coping mechanisms and behaviors.
From there he was quickly thrust into the Hollywood fashion scene. He was only a few months clean and sober when he was hired by Aerosmith's stylist, an old friend of his, to be her assistant. Aerosmith was public about their sobriety and were in the midst of an enormous comeback back then. They were the first inspiration for him, and he took that inspiration forward into his fashion career.
Fashion Styling by Day, Spiritual Pursuits by Night
Celebrities and artists would later come to him to be styled, he says to them it may have just been playing with clothes but to him it was a heart-based service. He recalls his intention was more broad and deep than picking the right shoes for someone. Luke attributes his success to his ability to access empathy, compassion and relatability and helped his clients to feel safe. He laughingly describes how his fittings were probably very different than a lot of others! He would bring someone in and give them green juice and talk to them about meditation and medicinal mushrooms.
So it was a double life in a sense, but he never pushed his beliefs on anyone else. However, if they asked for help or there was a window of opportunity he would share. For the most part he lived it on the inside and after work he'd run off and hang out with his sober buddies, do his recovery work and go to retreats, and dive deeply into meditation and the like.
His earlier point about addiction made me curious so I asked him how did addiction arise for him? Was there a hole was he trying to fill or was there another reason for addiction in his life?
Luke shares he was sexually abused a few times when he was very young, 5 or 6 years old, and then later when he was older around 11 or 12. When it happened the first time he felt immensely ashamed and isolated because he didn't know how to tell the adults in his life. Immediately following that first incidents of abuse he had lots of behavioral problems at school: he picked on other kids and got kicked out a lot.
He lived in northern California at the time, where a lot of the hippies from the Haight-Ashbury culture had also moved so there was an abundance of drugs available. He basically self-medicated to get through school and handle his feelings from being sexually abused. But there were also a lot of consequences from that self-medication, including legal ones like going to jail at 14.
Reaching Rock Bottom and Rising Up
After his heartfelt share, I asked Luke to tell us what his breaking point was: what made him say he needed to turn his life around?
There were some drawn out experiences as well as a couple of major points. The more drawn out experiences were being addicted to crack and heroin. He says there's no way to go on a crack run and wake up the next day saying you are fine, you don't have a problem. The amount of shame that goes along with it is too great, the people you are with and the environments you are in just contribute to that shame, too. That began to wear him down.
And being addicted to heroin is no party either. The periods he was able to stay off of heroin became shorter and shorter. The first time he realized he was physically addicted he then went off of it for about a year, but the times in between using soon became shorter. Each time he'd say he'd do it just this once and then he'd be hooked again. Then he'd get off and be clean for 9 months, before using again. Then it would be six months in between using and then a few months and then a few weeks.
Luke continues by describing the two pivotal moments that helped him turn his life around including a mushroom trip and what finally convinced him to enter rehab.
You'll hear those two moments as well as how he got into biohacking and his transition into and out of vegetarianism. We wrap up the show with a discussion about what he suggests doing if you are struggling and want help, and what he would like to be remembered for. Join us to hear all the details on this episode of Awesome Health with life stylist Luke Storey.
Episode Resources