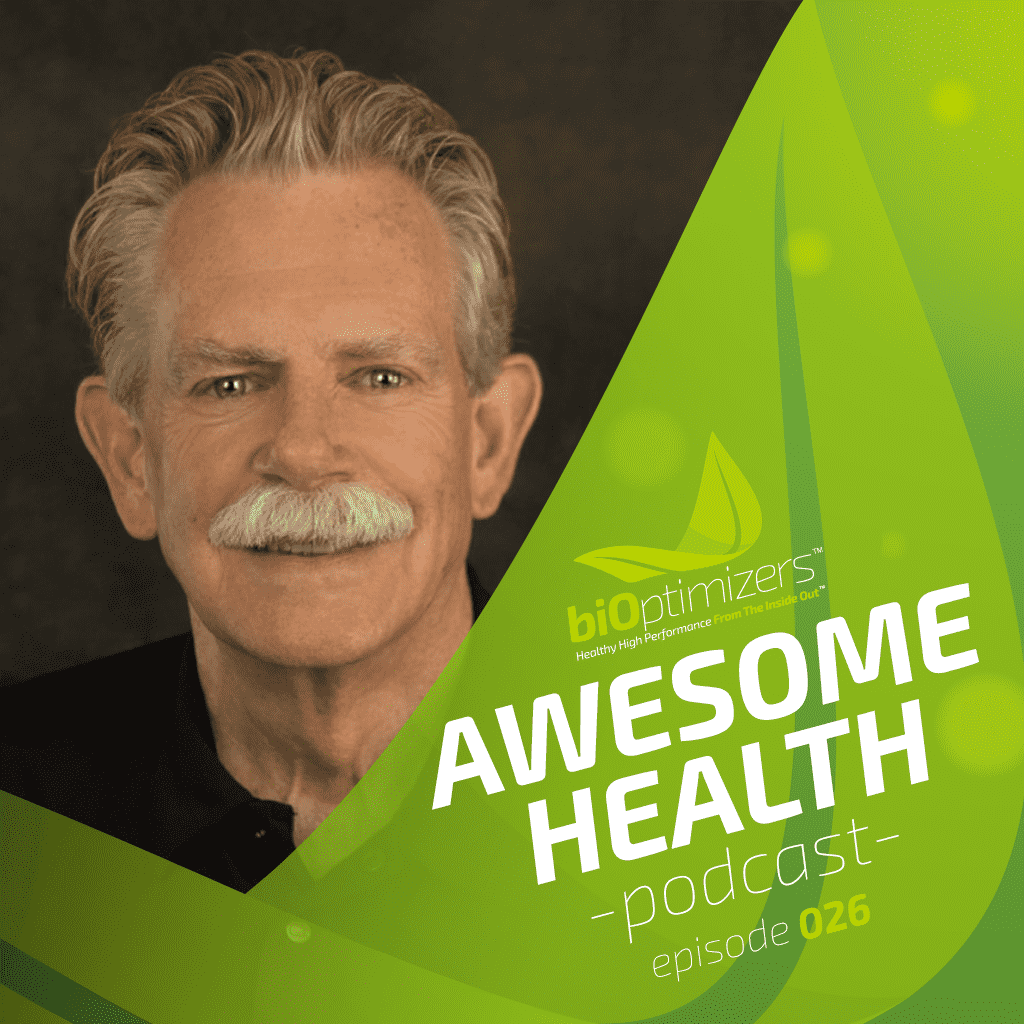 Bob Wright is the best-selling author of Killing Cancer, Not People and is the founder and Director of the American Anti-Cancer Institute. The AACI is an eleven-year old organization that educates people world-wide regarding the real truth about cancer.

On today's edition of Awesome Health, we did into that truth as well as what to do if you or someone you love receives a cancer diagnosis, how we can use epigenetics to help our bodies heal, and much more.
More About Awesome Health with Bob Wright
Bob's pursuit of healing cancer began in college. He was blessed to receive a full-ride scholarship as an athlete, and continued his athletic pursuits after receiving his degree. In his mid-30s he began running marathons, something that requires a commitment and dedication to proper nutrition and supplements. That spurred him on to discover more about the human body, the physiology piece became even more important to him.

The final push was his own mother's diagnosis and subsequent death from cancer. She was diagnosed and within a week she had died. His dad died a few years later of kidney cancer, something he battled for 16 years.

Seeing their care (or lack of it) was the impetus to his deep dive into this disease. He found an entirely different story then what was being told to the general public, That began his quest to "out" the cancer industry, but also giving them kudos for the good they do with good medicine when that medicine is appropriate.
What to Do With a Cancer Diagnosis
I asked Bob to talk about the diagnosis, as well as when people should read his book. Bob recommends reading his book now, before you or anyone you love has cancer.

But if you or a loved one should face the diagnosis of cancer, try not to panic. Most people find cancer to be the most terrifying diagnosis, and they do react with fear and panic. And some of that is because we've been taught to revere our doctors, and keep them just a step below God.

If your oncologist tells you that you have cancer and 90 days to live, and they can't help you, then most people accept that diagnosis. They follow their doctor's orders and go home to die.

But the reality is most doctors don't have a lot of options in their toolbox for treating cancer. They have surgery, chemo, other drugs and radiation…and that's it. Because those are the only tools available to the doctor those are the only tools the doctor can and will offer to you and other patients.

The doctor isn't going to tell you to get good quality turmeric and broccoli because they are far better than anything they can give you. If a doctor ever did say that they'd be fired! They are locked into a standard of care and that is all they can recommend.

Alternatively, Bob suggests if you are diagnosed first don't panic. Second find out what options are really available to you – go to the far side and explore "alternative" medicine (which is really natural medicine, the real medicine of the last millennia).

People have always used plants, good water and other things readily available to keep us well and heal us. What people haven't done is used drugs and other chemicals and radiation to treat diseases.

Bob says we should do what we do for our children. We would turn over every rock and search to the ends of the Earth for treatments if our children were sick, so let's do the same for ourselves.
Killing Cancer, Not People
Next we talk about his book, Killing Cancer, Not People. What does it contain and why is it so important we all have a copy in our homes?

It is an anti-cancer book, and what he would do if he were diagnosed with cancer. However, it's so straightforward that it can be applied to all chronic illnesses including Type 2 diabetes, autoimmune diseases, neurodegenerative diseases, etc.

The protocols in this book can help with any of these chronic ailments because they focus on helping the body function properly and helping the body heal. It's a term he calls "walking it backwards". Walking it backwards means walking backwards from your cancer diagnosis to the reason it is there in the first place.

If you ask a doctor why you have cancer they'll tell you have cells multiplying out of control, your genetics have gone haywire, etc. They'll tell you those things for a few minutes, and then say beyond that they don't know why you have cancer.

But if you go to someone who knows how the body works and they know what it takes to heal the body, then they can walk you backwards from your diagnosis to the reasons you have it to how you can support your body to heal.

He goes on to explain that the reason we get sick is because our bodies are acidic, and acidity promotes inflammation in the body. Inflammation brings pain, pain brings sickness and ultimately chronic illness and death.

His institute understands that process and they can utilize the things necessary to take cancer in the other direction. Those things are the tenants in this book, basic tenants for health and healing either from cancer or something else.

And this book is a how-to book, many people call it the Cancer Bible. It's a useful resource, which is what we all want when we are sick and facing a serious and/or chronic illness.
Also on today's episode, we touch on epigenetics and how there's much more flexibility in how our genes are expressed and why we don't have to be at the mercy of our genes.
We wrap up with his 5 step program:
Eat right.
Food is really the most important thing, it is fundamental to healing.
Drink the right fluids.
We have to drink the right fluids to stay hydrated, especially the right water. Bob recommends Kangen water and he explains why on this show.
Take the right supplements.
This is extra important when we are sick and it's hard for us to consume the proper nutrients. We need the right probiotics, digestive enzymes, etc. Bob tells us which he takes and why.
Detox your body.
Bob explains which detox program is best and where to find the best detox centers.
Exercise.
Exercise moves your lymph system, gets your blood moving and gets the bad stuff out of your cells.
Tune in to hear Bob's full explanation of each of these protocols, why we need them and how to ensure you are adding them into your everyday life. Join us for those topics and more on today's Awesome Health podcast with Bob Wright.
Episode Resources