Do you believe in the mind-brain connection? Research is showing us this is true, and one of the experts in the field is here to explain more, Dr. Caroline Leaf.

Dr. Leaf is a communication pathologist and cognitive neuroscientist with a Masters and PhD in Communication Pathology and a BSc Logopaedics, specializing in cognitive and metacognitive neuropsychology. Dr. Leaf is also the bestselling author of Switch on Your Brain, Think, Learn, Succeed, Think and Eat Yourself Smart, and many more.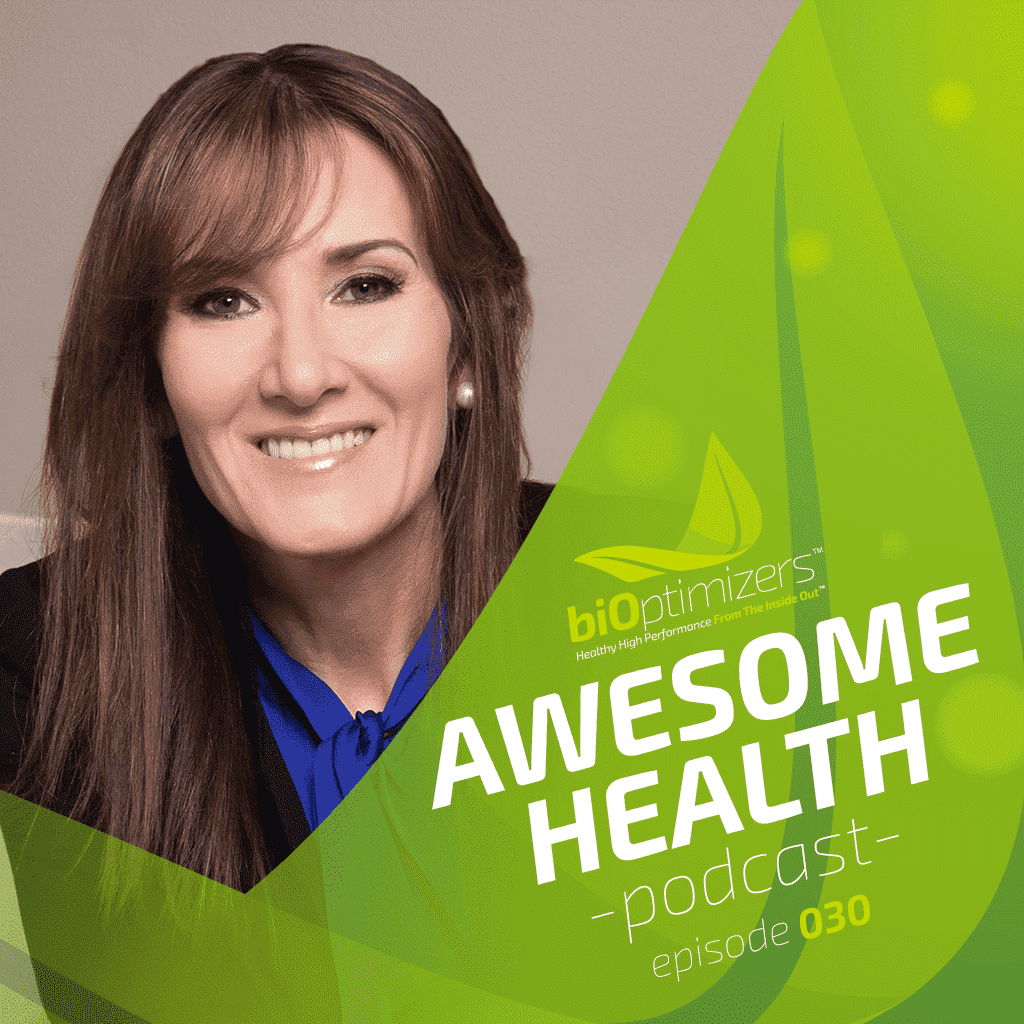 All of that means she has studied the mind and the mind-brain connection, and researched the science of thoughts. She's been in this field for 25 years and today she travels the globe teaching and helping people understand how to control their thoughts, tapping into humans' innate resilience, and giving a new narrative to mental illness and mental health.
More Awesome Health With Dr. Caroline Leaf
Clearly there are many subjects we can talk about, the first one is what she thinks are the biggest issues we are dealing with today. Is it Alzheimer's, dementia and society's cognitive health?

Dr. Leaf says it's not so much the labels of dementia and mental health, but mind management. About 60 years ago there was a complete shift in how we perceived humans. A person's story was considered important when dealing with whatever they were facing. Then things shifted and the focus became the person's symptoms (and not their stories) and their diagnoses based on the symptoms they were showing.

So the physical aspect became dominant and the hunt began to find the genetic cause or neurological correlates of mental illness. Everything then shifted and centered on symptoms, diagnoses and medication to treat the diagnoses. Therapy became adjunct or even outright ignored, and medications are dominant.

Dr. Leaf explains the particular class of drugs she is talking about are neurotropics and they act as analgesics (they numb the brain). They were discovered in the '50s by accident, and began being used when it was found they calmed people who were acting "crazy". That gave birth to the movement to medicate mental illness. By the mid 80s Prozac was released, and the push for medicating mental illness hasn't stopped.

It's a problem because we are no longer in communities, forming meaningful relationships, being allowed to feel sad or anxious or depressed, and the self-help industry telling us we need to be happy all the time. (And if you aren't happy and the things self-help teaches you don't work then you are the problem).

There's been an increase in suicides, mass shootings and other terrible things in countries that have adopted this philosophy.
We Can Change Our Genes and Our Brains
But since the early 2000s we now understand the brain can change and our genes can change. It means we are not hard-wired robots. It means we aren't born with a bad genetic hand or a bad brain, we can change our genes and our brain.

We've also come to know our minds and our brains (and the rest of our physical body) are separate: our mind works through our brains and our bodies, and our minds are how we respond to life. Our brains and our bodies will be affected by whatever signal we put it into it because our brains and our bodies and our genes are responders, our mind is the generator.

In that sense, if we are experiencing trauma or abuse or are engaged in a toxic habit that we haven't controlled and we aren't dealing with "our stuff" because society has us numbing our feelings with medications, then we can cause brain damage. Our brains are actually built to process, not to be numbed. The numbing of our brains keeps us stuck and injures our brains.
Dr. Leaf shared so many profound insights, and I asked her to tell us more about the separation between our brains and our minds. How has she come to that conclusion based on her background and her studies and all the work she is doing?

It's an ancient concept actually. If you look at the history of medicine and the philosophies of medicine and science, and you track back a few thousand years this concept wasn't even questioned. It was understood: the brain and the mind are separate from each other. Even though they are separate from each other they are interlinked and you cannot have one without the other. There's scientific evidence to back this: a significant amount of research, including research from Nobel Prize winners, shows as we think there is a physical response inside the brain.

The philosophy we discussed earlier and the one that dominates now believes that everything is based in biology: your brain fires and produces your mind as an artifact; you have no free will and are a pre-programmed robot. But that goes counter to our natural instinct, we automatically know about our uniqueness and our ability to choose. The focus on the physical that began some 60 years ago has taken away the emphasis on that ability to choose, on the story each of us has to tell and on us as individuals.

Her research has been on the history of science as well as quantum physics, neuroscience, epigenetics, etc. Those fields confirm without a doubt that there is an interactive separation. She defines the mind as the way you think, the way you feel, and the way you choose. You are always thinking and your thinking is unique to you. Thinking always goes with feelings and as you think so you feel and so you choose. Consciously you experience this every 10 seconds, but unconsciously this happens at 400 billion actions per second!
That's just a taste of the mind-opening knowledge Dr. Leaf shares today. She also tell us why we should daydream for a few minutes every day and our mind management system as a whole. We finish with a few of her daily practices, all of which you will hear when you tune in to this episode of Awesome Health with Dr. Caroline Leaf.
Episode Resources
Dr. Leaf's web site
Think, Learn and Succeed, by Dr. Caroline Leaf
Dr. Leaf's other books
Dr. Carloline Leaf on Twitter
Dr. Caroline Leaf on Instagram
Dr. Caroline Leaf on Facebook
Dr. Caroline Leaf on YouTube
Switch app
Bioptimizers with Dr. Leaf
Masszymes (cheat10)