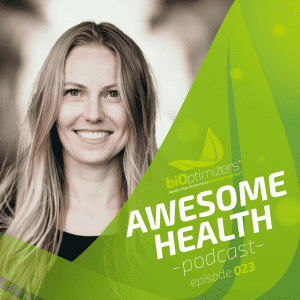 We all know core muscles are important, but how do we know we are using our core connections most effectively?
Erica is a mom of three, a published author, a Pilates instructor, and a nutrition coach with 15+ years of experience. She's also the creator of The Core Rehab program and Knocked Up Fitness. She holds a bachelor's degree in Kinesiology and Health from Iowa State University, and is a certified personal trainer.
On today's episode of Awesome Health, Erica tells us the differences and similarities between Olympic-style weightlifting, Pilates and core training. We also talk about core connections, especially for pregnant and postpartum women. But men don't shy away, there's a lot for you to learn from Erica, too! Join us and hear it all on today's Awesome Health podcast.
More About Awesome Health with Erica Ziel
We start with her back story. Erica says to this day her mom jokes she has no idea where Erica got the "movement bug" from because it didn't come from her mom's side of the family!
As a child, Erica suffered from a lot of knee pain. It started at the age of 5 and continued til she was 21, when she finally rehabbed her body. She loved anything related to athletics, but she was always injured and in a lot of pain.
By the time she was a junior in high school, she had been to many different doctors who all said it was just growing pains and she would outgrow it. Well, Erica never outgrew the pain. Finally at the Mayo Clinic they told her she needed to strengthen her knees.
It sounded so simple! She wondered why no one had told her that before, but she embraced it from then on. She began strength training and the football coach at her high school helped her find proper form.
Changing her form made all the difference and the exercises started to work, in more ways than one. Her knees hurt less and she was intrigued. In fact, the experience peaked her interest so much she studied Exercise Science at Iowa State.
From there, she became interested in Pilates and taught mat Pilates at Iowa State. She was also studying to become a group instructor, and at one point her instructor told her she needed to make a choice. Erica would have to choose between kickboxing or mat Pilates, and she choose Pilates. It proved to be the right choice and she eventually moved to California where studied under John Gary in Long Beach.
The Importance of Deep Core Muscles
Now that she's built an entire business around core muscles, I asked Erica if she could explain why it's so important to have deep core muscles for pregnancy and when should we develop them. Erica says
the sooner you can start the better, so if you can start before you get pregnant that would be ideal.
But you can learn and benefit from these muscles at any stage. Even if you are due next week knowing and using these muscles can still help you. Implementing what you learn from just a few sessions of connecting your your breath to your core and your pelvic floor can make a big difference.
She says anything a mom can do to help ease her labor and recovery can help with things like postpartum depression and anxiety. Many of her women reach out and tell her how different their postpartum recovery was after learning how to engage their deep core muscles, versus their earlier pregnancies when they didn't know how to use these muscles.
Some of these women have had several babies before working with Erica and after tapping into their deep core muscles their ensuing pregnancies actually got easier – when most additional pregnancies actually get harder for the majority of women.
Women's Health Issues During and After Pregnancy
Which leads to my next question: what are the top health issues women come across during pregnancy and after?
The women Erica speaks to all tell her their #1 issue is pelvic floor issues such as incontinence. Women have told her every time they jump rope or they sneeze or they get on a trampoline they pee a little. It's become so common people are seeing it as a normal thing. But it's not and it shouldn't be and it doesn't have to be.
This doesn't just happen to women who have babies, it can happen to women who have never been pregnant. A lot of women try to avoid this happening by doing kegels, but often they do them wrong and ineffectively.
Another common issue is pelvic organ prolapse. This is when the uterus or the bowels slip down below the pelvic floor. Often women find her after the fact and they've had to have a hysterectomy because they had a full pelvic organ prolapse. But if we would teach women about this we can help women prevent this from happening in the first place.
After those two issues comes back pain. People will tell her they are doing all of their ab work but they are still having back pain. And it is typically because they are not connecting correctly through their core. So the fundamentals are missing and that is something she walks people through in their first week in her program.
Also on today's episode we talk about why we sometimes need to back off and relearn the basics, other health issues that are common for pregnant women and the instructor course she offers. Join us for this insightful conversation about core connections and more on episode 23 of Awesome Health!
Episode Resources